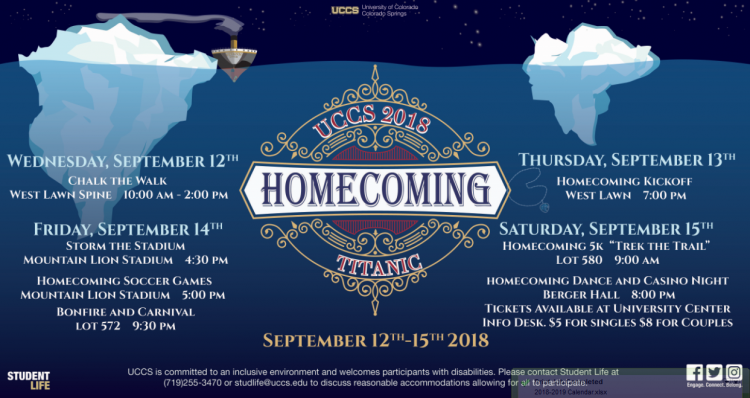 This year's homecoming will celebrate the history of UCCS with traditional events for students, alumni, faculty and staff. The four-day celebration kicks off Sept. 12.
Wednesday, Sept. 12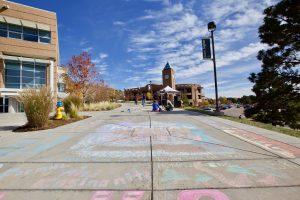 Chalk the Walk | 10 a.m. – 2 p.m. | Spine near West Lawn
Students are invited to decorate the spine with chalk to show their school spirit and win prizes. Chalk will be provided. Clubs or groups can sign up by emailing [email protected].
Thursday, Sept. 13
Faculty & Staff Alumni Breakfast | 7:30 – 9 a.m. | Clyde's
Current faculty or staff members who also graduated from UCCS are invited to the complimentary breakfast, registration closes Sept. 7.   
Homecoming Kickoff | 7 – 9 p.m. | West Lawn
A barbecue buffet, games and prizes will kick off the Homecoming Weekend celebration.
Friday, Sept. 14
Storm the Stadium | 4:30 p.m. | Mountain Lion Stadium
Athletics will provide free soccer t-shirts before the men's game kicks off at 5 p.m. followed by women's game at 7:30 p.m.
Homecoming Bonfire and Carnival | 9:30 – 11:30 p.m. | Lot 572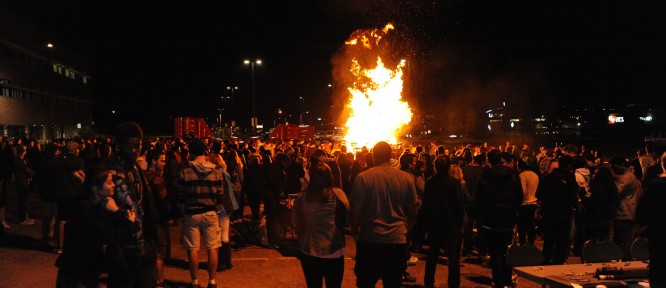 Students will be given tickets at the entrance and can win more by playing games for prize drawings throughout the night. There will be s'mores and other activities while the fire burns.
Saturday, Sept. 15
Trek the Trail Homecoming 5k Fun Run/Walk | 9 a.m. | Lot 580
The 5th annual fun run/walk is hosted by The Helen and Arthur E. Johnson Beth-El College of Nursing and Health Sciences in partnership with student organizations across campus. This is a zero-waste event and is the only trail-based run/walk at UCCS. Since inception, the 5k has raised more than $8,800 in student scholarships, provided leadership and learning opportunities for over 140 student volunteers and has brought nearly 250 runners and walkers to campus trails. Registration is open now. Volunteer sign-up here.
Homecoming Dance and Casino Night | 8 – 11:30 p.m. | University Center 2nd Floor
Students are invited to the dance and casino night to wrap up Homecoming Weekend. Tickets are on sale now at the University Center Information Desk, $5 for individuals and $8 for a couple.
 Sunday, Sept. 16
Alumni Homecoming Tailgate & Soccer Games | 11:30 a.m. | Mountain Lion Stadium
Alumni are invited to a free tailgate followed by the men's game at 12 p.m. and women's game at 2:30 p.m. 21 and over bring ID. Registration closes Sept. 13.