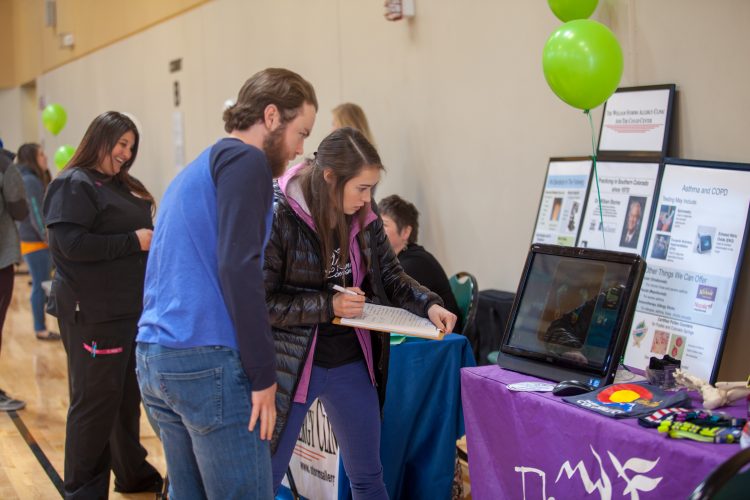 This year's Health and Wellness Fair has been moved to the fall semester and will feature more vendors than ever before.
"We wanted to be able to educate students earlier in the year on health resources available to them on and off campus," Katie Gordon, wellness promotion manager, Wellness Center said. "This also places it strategically in the fight against the influenza virus. We will be providing flu shots to students and employees."
Students, faculty and staff are invited to stop by from 11 a.m. – 2 p.m. Sept. 25 at the Gallogly Recreation and Wellness Center to learn more about a variety of topics related to mental, physical, financial health and more.
This year's fair includes:
Flu shots*
HPV, TDAP and Hepatitis vaccinations*
UCCS HealthCircle
Fitness Buddies
Therapy Dogs
TIAA
CU Employee Services and PERA
Massage
Chiropractic
Acupuncture
Pre-concussion screening
Academic Advising & Excel Centers
SmartMoveUCCS
Ent Credit Union
Nutritional samples
Family Development Center
Disability Services
Penrose Cancer Center
Memorial Hospital Cardiovascular Services
Health coaching
* will accept insurance and cash
"This year we worked closer than ever with human resources to provide more opportunities for CU employees at the fair," Gordon said. "We are hoping that this will be a one-stop-shop for many employees to invest in their own wellness, while learning more about CU benefits."
Participants are encouraged to bring their insurance cards for certain vendors along with a non-perishable food item for Clyde's Cupboard, a free on-campus food pantry for students.
For more information on the fair, contact Gordon, [email protected] or (719) 255-4448.