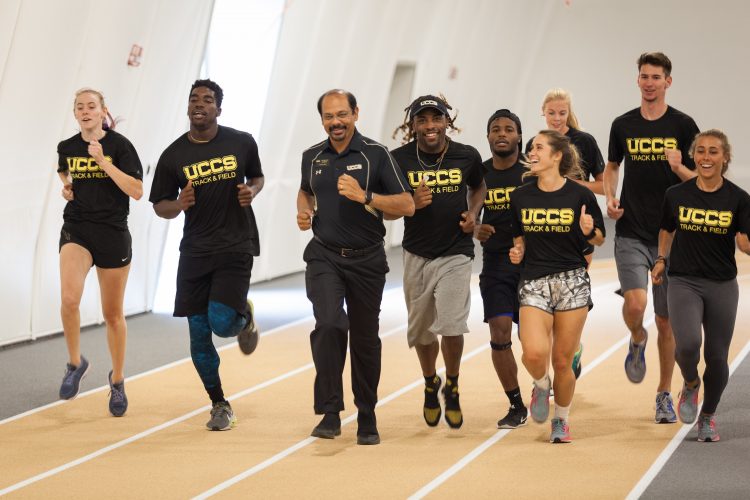 Nearly 200 student-athletes, faculty and staff members gathered at Mountain Lion Fieldhouse for its grand opening ceremony Sept. 5.
Opening remarks were made by Chancellor Venkat Reddy; Nathan Gibson, executive director, Athletics; Kent Marsh, associate vice chancellor for campus planning and facilities management, Facilities Services; and Sierra Brown, student body president.
"For me, Mountain Lion Fieldhouse signifies a huge hurdle – no pun intended – for our athletic department," Gibson said. "About 15 years ago, we had a dream of building our track & field and cross country programs. We always knew if we could get a facility like this, we could not only have some of the best track and field and cross country in Division II, but we'd be able to attract athletes from all over the country, and maybe even all over the world, that would want to be mountain lions."
Construction began early July 2017 on the new baseball stadium and fieldhouse after creating a brand-new baseball team and expanding the track and field program.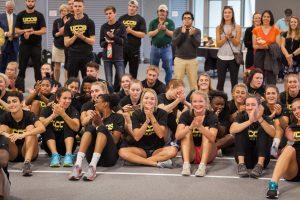 "What's most impressive for me on a day like today is seeing all our athletes standing around knowing that there were many athletes that came before you and that will come after you that will share that vision and get to train in this place and finally have a home," Gibson said.
Chancellor Reddy praised the student-athletes and thanked the community members who helped make the new facility happen.
"One of the things I'm most proud of when talking about student-athletes is you are leaders not only on the field, but also in the classroom," Reddy said. "When you pull off a 3.0 or higher for 14 years in a row, that is extraordinary."
After the ceremony, Chancellor Reddy broke in the new track by running a lap with track athletes during their first practice.
UCCS will host its first competition in the facility Dec. 8 in the UCCS Invitational. Other UCCS athletic programs will use the fieldhouse for conditioning and workouts during poor weather conditions.
The facility was designed by DLR Group, Bryan Construction served as the general contractor for the total project.