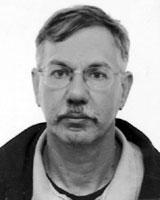 To the Campus Community:
Please join me and the faculty of the Visual and Performing Arts Department in offering condolences to the friends, family and colleagues of Professor Emeritus Louis Cicotello who died March 6 following a climbing accident near Hanksville, Utah.
Professor Cicotello joined the Department of Fine Arts in 1984 as professor and served as chair for many years of the Department of Fine Arts and, later, the Department of Visual and Performing Arts, before retiring in 2007. In 1996, he earned the Chancellor's Award in recognition of his campus leadership. He returned to campus to co-teach core humanities courses. He was a world traveler, excellent cook, and a vigorous canyoneering enthusiast.
According to his colleagues, Professor Cicotello was an energetic participant and stalwart champion of the arts on the campus and in the community. He was a frequent and respected contributor to exhibitions and galleries along the Front Range and beyond. His work in sculpture and collage was consistently recognizable. Many of his collages can be found on campus. One of his most prominent works is the commencement mace which is carried by the commencement marshal during the graduate processional at each graduation ceremony.
Professor Cicotello modeled and lived the creative process. He valued curiosity, experience, personal connection careful observation, and joy. He taught, encouraged and challenged his students who will carry his legacy.
Professor Cicotello died in a rappelling accident in a remote canyon in the Robber's Roost area of Utah. His brother, David Cicotello, survived six nights on a ledge in the canyon following the accident before he was rescued March 12. David is recovering in a Moab, Utah hospital.
In addition to his wife, Millie Yawn, and brother, survivors include his daughter, Sarah, son-in-law, Chris, and a granddaughter, Olive.
Memorial services are pending and will be shared when they are available.
Respectfully,



Pam Shockley-Zalabak
Chancellor