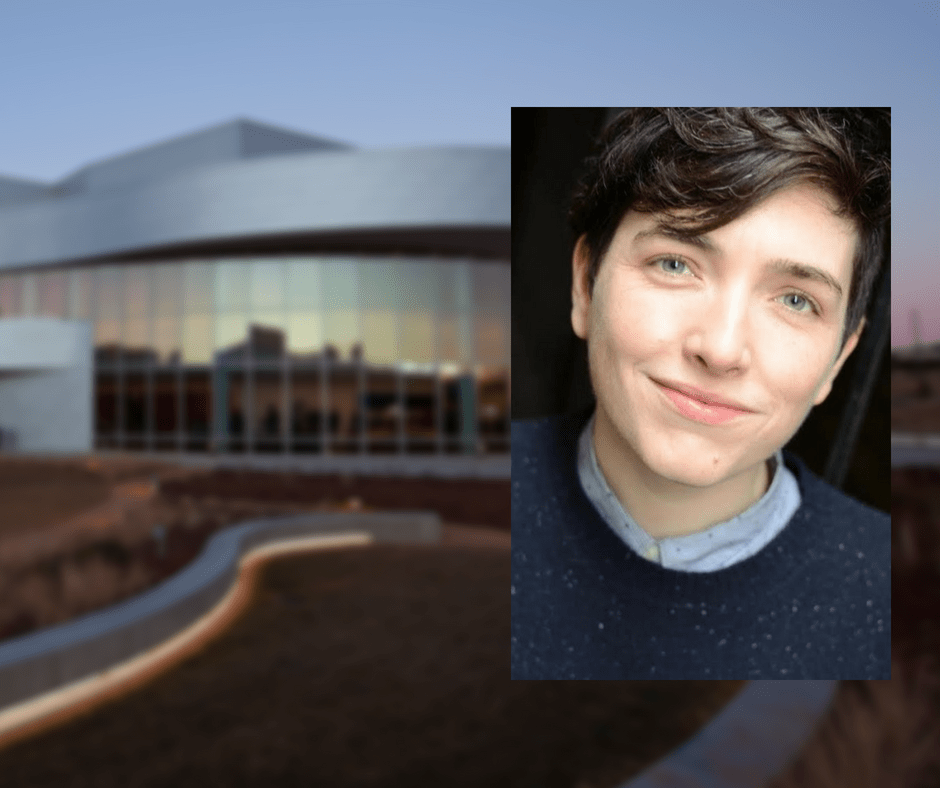 An accomplished director with more than 50 directing credits in Boston and Chicago will be the next artistic director for Theatreworks. Caitlin Lowans will begin as the new director August 1.
"I am excited we have found in Caitlin Lowans an energetic leader with a strong artistic vision to build upon the legacy that my dear friend and colleague, the late Murray Ross, started here in Colorado Springs," said Drew Martorella, executive director, UCCS Presents. "During her recent visit to UCCS, Caitlin left our staff and other key community members invigorated, and I look forward to her joining our team."
Lowans spent the last three years earning her master of fine arts, the terminal degree in the field, at Northwestern University in Chicago. She directed "The Fairytale Lives of Russian Girls," "Passion Play," and "Stellaluna" at Northwestern. Lowans has studied and worked with Anna Shapiro, artistic director, Steppenwolf Theatre Company; Jessica Thebus, associate artist, Steppenwolf Theatre Company; Mary Zimmerman, Manilow resident director, Goodman Theatre; Shana Cooper, director in residence, Woolly Mammoth Theatre Company; and Michael Rohd, founding artistic director, Sojourn Theatre.
A native of New England, Caitlin previously served as associate artistic director at Stoneham Theatre, now the Greater Boston Stage Company. She directed 52 productions, including "Walking the Tightrope,"  "Picnic at Hanging Rock," "A Year with Frog and Toad," "Romeo and Juliet," "My Fair Lady," "The Turn of the Screw" and "Picnic." She directed five world premiere productions with three companies: "Sunfish: The Musical" at the Stoneham, "Ryan Landry's M" and "Pysched!" for the Huntington Theatre Company, and "The Clytemnestriad" and "Outlaw Jean" for Fresh Ink. Lowans also directed "Avenue Q" at Jean's Playhouse in Lincoln, New Hampshire, and "In the Summer House" for Four Point Theatre Channel in Boston.
With a focus on creating worlds that explore and explode contemporary social issues, Lowans uses heightened language and dynamic physicality to engage audiences and create community. Lowans is drawn to both new work and classic plays that allow us to experience shared humanity across time.
"Founding artistic director Murray Ross built a dynamic 40-year legacy of challenging and engaging theatre," Lowans said. "I am excited to continue that inspiring tradition of classics that connect us to our past, combined with new works that celebrate a diverse present, so we can imagine an inclusive future. With the new Ent Center for the Arts and the committed arts leaders gathered within, Theatreworks is ready to open its doors even wider to both the artistic and the civic life of the Colorado Springs community. I couldn't be more excited to helm our work."
The 2018-19 Theatreworks season begins July 26 with Macbeth, the first of two productions of Shakespeare at the Ranch at Rock Ledge Ranch Historic Site. Subscriptions for the full season are on sale at uccspresents.org or by calling (719) 255-3232.
Theatreworks is a professional, regional theater company dedicated to creating challenging and innovative productions of classic and contemporary theater for the enjoyment, education and stimulation of UCCS students, faculty, staff and Pikes Peak region community members. Theatreworks was founded in 1975 as an outreach program of the University of Colorado Colorado Springs. For more information, visit www.theatreworksCS.org.
–by Nicole Anthony, UCCS Presents