Editor's Note: This is the fourth in a series of occasional features provided by the UCCS Teaching and Learning Center to encourage faculty to share ideas about teaching strategies that engage students and enhance learning. Faculty members are encouraged to share their ideas by contacting the TLC at 255-4872 or tlc@uccs.edu. Free coffee vouchers are available to get the discussion started.
Q – How would you define a wiki?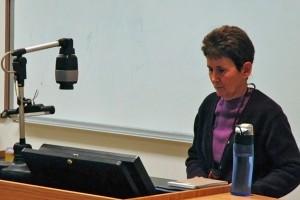 A – Definitions on the web of a wiki include: 1) A collaborative website set up to allow user editing and adding of content. 2) A wiki is a website designed for multiple people to collaborate by adding and editing content. Wikipedia is an example of a wiki. 3) A wiki is a website that can be edited by any reader.
I define a wiki as an online tool to use when creating a collaborative assignment.
Q – What gave you the idea to integrate a wiki into your course?
A – I have taught a laboratory course almost every year and I have always strived to make lab reports more than just a static report. The students went through the motions. But how can I assess if, when they were done, they knew what they did or if they can interpret their results?
Because I have never had a lab TA or a grader, I don't want to read or grade a million lengthy lab reports or even write multiple tests or quizzes that take away from time in the lab. I have often let students write up lab reports with their lab partner since I think the interaction is valuable: they can talk and question each other and come to a consensus about the lab and their results.
Several years ago I taught a class where multiple assignments were due for a professional organization; these assignments were incorporated into the course requirements. Multiple students turned in identical assignments, something I considered cheating but the students considered working collaboratively. Although I do not currently teach this course, it is never far from my mind when I am writing the syllabus for my current lab course.
Q – How did you integrate a wiki into a biology course?
A – This semester is the first time I have used Blackboard in a lab class. When I saw that I could set up a wiki under the 'add interactive tool' option, I asked Sharon Stevens in the Teaching and Learning Center about it. I decided to try a wiki in place of a lab report for the four undergraduate students enrolled in the course. Potential advantages include less grading for me, a clear understanding of the lab and the lab results for the students and they could work online or at home at their convenience, and I could also make sure the stronger student(s) wouldn't do all the work since Blackboard tracks who has posted or edited and how much (it counts time and words contributed).
Q – How did the students respond?
A – When I first mentioned this option to the undergraduate students, they all looked terrified. But they calmed down when I told them the wiki was only in Blackboard and so it would not be open to everyone. Surprisingly, they decided to meet together to work on it. So much for technology.
Q – How did you evaluate student participation and performance?
A – Although they originally planned on meeting in the library one evening, they met at a student's apartment. This student plugged in a laptop into his giant TV screen and they all talked about the lab and wrote the wiki together. I did not give too many guidelines but they wrote it in the form of a paper (abstract, intro, methods, etc.) and they were quite proud of how it looked. Because they input everyone's data (they report this has been a bit problematic: putting in spectra and gel photos), they had to compare and reconcile the data, deciding why some results differed. So I am confident they discussed everything in detail and they all agreed on what and how the wiki was written even though only one person typed in the wiki itself. This process is ongoing (they have turned in 3 reports to date) and seems to be working. They report that it takes them five hours (presumably it is not all work!) to complete.
Q – Would you do it again?
A – Yes and I think four is a good size of group. Partners can easily meet together but it is usually more difficult for larger groups to actually meet in person so I think the wiki has potential because of its convenience.
In the early-1990s I tried to make an email group or list serve for a class so they could discuss the course content. This was a challenge (before IT as we know it today) and the students didn't seem comfortable enough with the technology. I will be interested to determine if and when students will work on the wiki remotely. Maybe they won't, showing that certain things are better or easier done face-to-face.
Q – Would you recommend the use of wikis as a teaching tool to your colleagues?
A – Probably yes, depending on the course. If you are interested, I recommend contacting the TLC to learn more about wikis in Blackboard.