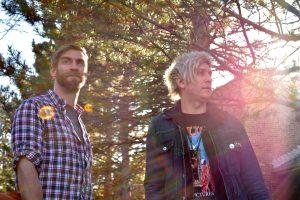 An unlikely duo, Jon Gillin and Mark Young both felt an overwhelming sense of uncertainty before approaching college, but their time at UCCS left them prepared for business ownership and ready to accomplish a great deal in the Colorado Springs community.
Just a few years removed from their time in the visual and performing arts program, the two teamed up as business partners, leading them to become mentors to hundreds of students at their successful guitar shop, SilversoundGuitar. But their path to success wasn't an easy one.
Mark nervously approached VAPA faculty for an interview, during which he admitted he didn't even know how to read music.
"I figured why not give it a shot? If I'm rotten, they'll tell me, and I'll just have to pick something else to do in life," Mark recounted. "They said, 'Well you're going to learn it.'"
Jon said his original interest was history, but he continued to feel the call of music, leading him to shift his focus. Both agreed the rigors of the program kept them on track and building their portfolio of skills.
"We did performances at the end of every semester, and they could fire you at the end of the program," Mark said. "They gave me the material and the motivation I needed to learn."
One of the biggest things the VAPA program bestowed upon Jon and Mark is their friendship. The two met in one of their classes in which a professor required duet recitals.
"For somebody with a lot of performance anxiety, it was nice to have someone there with you," Mark said. "I thought I would surround myself with people who were talented, and Jon was one of those guys."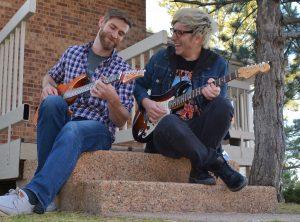 Both realized they specialized in skills the other lacked.
"For us, it was the thought that we'd come together and both work at what we are good at as a team," Jon said.
Luckily, the bond forged between the two musicians provided options after Mark graduated in 2012 and Jon graduated in 2014.
"When you're an artist or a musician after college, you don't have a job you just get to go do," Mark explained. "You don't get to say, 'I'm going to apply to this place.'"
With confidence that music can be a profession, the two teamed up, splitting rent as they offered guitar lessons, teaching all of the skills they picked up along their journey at UCCS. Jon said he really enjoyed the hustle Mark displayed and he had some prior business knowledge, leading the two to become co-owners of Silversound Guitar.
"We worked our butts off, 80 hours a week, sacrificing friendships and personal gain to grow the business," Jon said.
In just a few years, the pair outgrew one location and are about to outgrow their second shop. They've expanded the instruments they teach, opened a recording studio and continue to cater to a growing range of students.
"I'm doing what I want to do," Mark said. "I want bigger, badder, stronger and more likeminded musicians to come work here. Preferably from UCCS because they teach a lot of good stuff."
Jon couldn't agree more, pointing to UCCS as the sounding board of their success.
He believes faculty prioritize thinking outside the box, realizing music is omnipresent in modern media, in video games, commercials, films and almost every industry.
"Every teacher I had, I just loved," Mark said. "They were so good, welcoming and inviting. If you told them you didn't get something, they'd make themselves available to do a one-on-one. To me, that was just above and beyond."
###
— By Mark Belcher, University Marketing. This article original appeared in the "Achieve – UCCS Success Stories" publication.