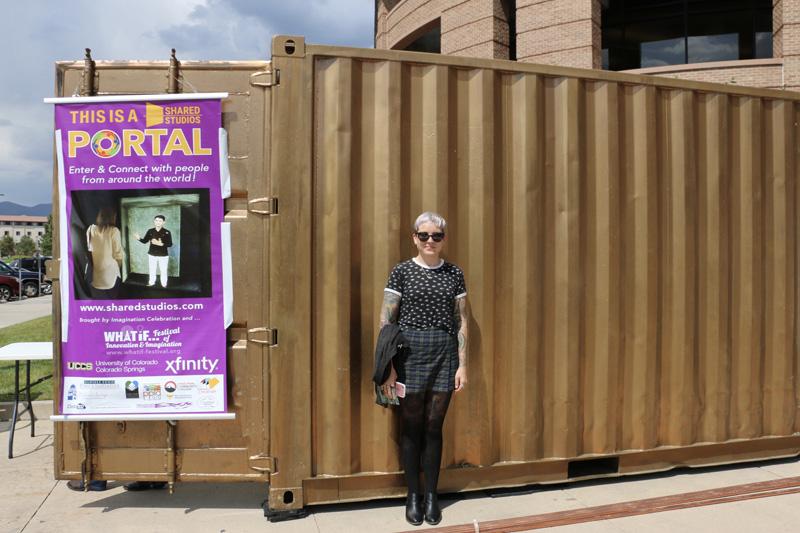 Sept. 25 Update: The Global Portal Project will remain on campus until Sept. 30. To register for a session, visit sharedstudios.com/uccs.
A gold shipping container gleamed in the sunlight near University Center on Monday as I approached with anxious excitement and curiosity wondering where I would be transported in just a few moments.
I learned about the Global Portal project created by Shared Studios when the container was situated at The Pioneer's Museum downtown, but I never seemed to be able to make time to experience it for myself. So, when I discovered that the portal would be installed on campus, I could not let this second opportunity pass me by.
I gathered other graduate students from my cohort in the communication masters program and scheduled a time for us all to take our chance to meet a stranger from across the country — or maybe even the world.
The day before my appointment to venture into the portal, I received an email from Shared Studios with a piece of advice for using the portal: "As you prepare for your visit, consider the following prompt: 'What would make today (or tomorrow) a good day for you?'"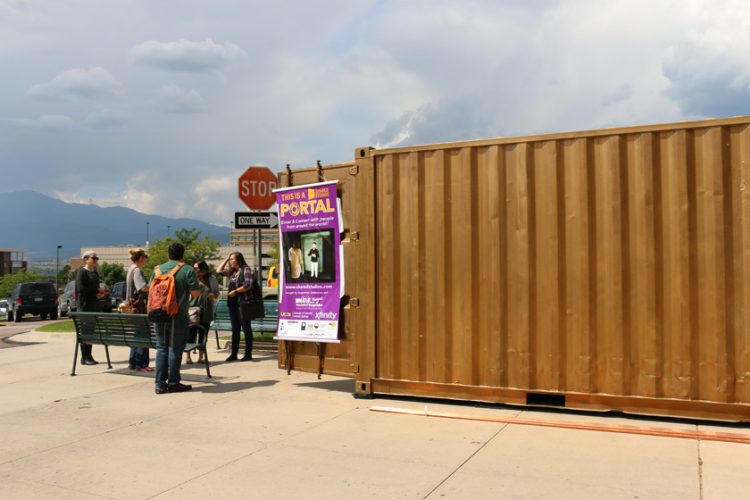 Walking up to the container on the very first day that it was open gave me a sense of being part of something very innovative and special on our campus. I didn't know what to expect but attended my scheduled session with an open mind and open heart.
Just behind a black curtain, I could hear the voice of a woman coming from within the opened doors of the gold space. A moment later, the facilitator of our portal stepped out as if she had just come from a casual conversation with a friend. She let us know that we could step inside at any time. We then walked past the curtain to find an open space with one entire wall casting the real-time life size video footage of a woman named Irem Bugdayci inside of a portal in San Francisco.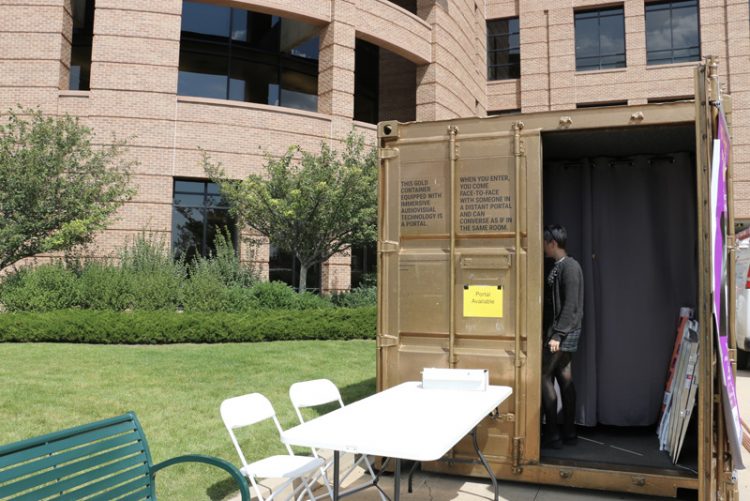 The shipping container filled with giggles and smiles as we all said hello to our new friend. Any nervousness or anxious jitters I felt melted away as soon as we all were face-to-face with what was a stranger moments prior but now felt more like an old friend.
We talked about the weather, what we were studying in school, and how our days were going. At one point, Irem mentioned that she was situated by the Golden Gate Bridge and asked if we wanted her to open the portal doors so that we could see it.
"YES!!" we all shouted in unison. A few moments later, the doors of the San Francisco portal were wide open with the bridge directly behind, showing us the bustling recreation area full of runners, walkers, and tourists alike.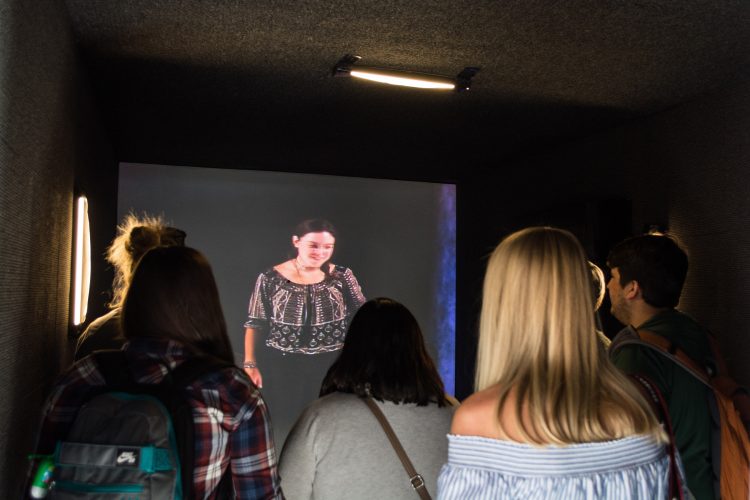 We spent a few more minutes getting to know Irem before our time was up. Selfies were taken and final goodbyes were shared before we stepped out of the golden container, back into Colorado Springs.
Shared Studios is a multidisciplinary art, design and technology collective that creates interconnected environments that feel spatially continuous and through which participants can engage with life-sized screens for face-to-face, full-body conversations with people around the world.
The Daniels Fund Ethics Initiative at UCCS invites you to explore important issues through honest conversation with people in different countries. Exchange ideas and develop unique connections at #UCCSPortal September 11-30 adjacent to Kraemer Family Library/South Entrance to UC.
Book a reservation for a timeslot in the Portal here
For more information about Shared Studios visit https://www.sharedstudios.com