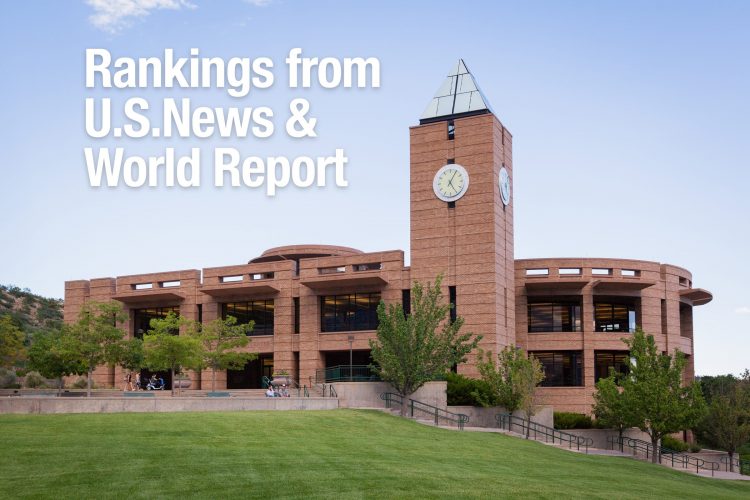 UCCS is a top-10 public Western regional university, according to the editors of U.S. News & World Report.
In the Best Colleges edition released Sept. 12, U.S. News ranked UCCS sixth in its list of top public Western regional universities. Among public and private regional universities in the West, UCCS ranked 35. Other rankings – public and private universities combined — included Best Colleges for Veterans (20), Best Undergraduate Business Program (128) and Best Undergraduate Engineering Program (137).
"The recognition of the academic excellence of the University of Colorado Colorado Springs by U.S. News and World report is very much appreciated," Chancellor Venkat Reddy said. "However, rankings do not present a complete picture of an organization. It is important for prospective students to visit our campus, meet the faculty and see the path to a successful future that a college education can provide."
In its sixth overall ranking, UCCS tied with San Jose (California) State University. Others in the category include California Polytechnic State University-San Luis Obispo, Western Washington University, New Mexico Institute of Mining and Technology, California State Polytechnic University-Pomona, Evergreen State College and campuses of California State University. For more than a decade, UCCS has ranked in the top 10 in the category. In 2016, UCCS ranked ninth.
Regional universities provide a full range of undergraduate majors and master's degree programs and a few doctoral programs. National Universities are the 311 institutions – 190 public, 114 private and seven for-profit institutions – that offer a wide range of undergraduate majors as well as master's and doctoral degrees; some emphasize research.
In the best national universities category, CU Boulder is 39 among top public national universities and 90 among all public, private and for-profit universities in the country. CU Denver is 113 among top public national universities and 207 among all national universities.
U.S. News & World Report's annual rankings are based on measures of academic peer assessment, graduation and retention rates, faculty resources, student selectivity, financial resources and alumni giving.
The rankings are posted at https://www.usnews.com/best-colleges.