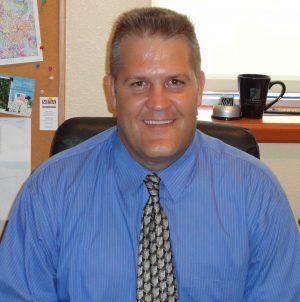 A civil engineer with more than 20 years professional experience is the new associate vice chancellor for campus planning and facilities management at UCCS.
Kent Marsh, 45, former director of facilities services, Colorado Mesa University, was selected following a national search. His appointment was announced by Susan Szpyrka, senior vice chancellor, Administration and Finance. Four finalists visited campus in August.
"We are very pleased that Kent Marsh will be joining the UCCS team," Szyprka said. "Kent's experience in facilities management including capital planning in Colorado is extremely helpful in meeting the needs of a growing campus. "
Marsh will begin Nov. 1.
For more than 10 years, Marsh directed the construction of new facilities and maintenance of existing facilities at the 140-acre Colorado Mesa University campus in Grand Junction. Previously, he served as a regional manager for Drexell, Barrell and Co., a private engineering consulting firm, as a regional engineer with the Colorado Division of Wildlife, and in engineering positions with the City of Grand Junction.
He earned a bachelor's degree in engineering from Colorado State University, Fort Collins, and a Master of Business Administration from Colorado Mesa University.  He is a licensed professional civil engineer.
Among his accomplishments at Colorado Mesa University was the construction of one of the largest geo exchange heating systems in the United States. The system saved money and reduced the university's carbon footprint. He was also responsible for oversight of about $500 million in new projects and renovations at the expanding campus.
Marsh replaces Gary Reynolds who announced in March his plan to retire in January 2018 following the opening of the Ent Center for the Arts. Reynolds joined UCCS in 2007 and led construction during the largest expansion since its founding in 1965. During his tenure, more than $300 million in construction took place as the campus added students, faculty and staff and needed living, office and classroom spaces.
Szpyrka thanked the search committee for its work. The committee's members were: Carlos Garcia, associate vice chancellor, Administration and Finance; Stephannie Finley, executive director, University Advocacy and Partnerships; Marcus Davis, maintenance services manager, Facilities Services; Ron Honn, campus fire marshal, Public Safety Department; Jeff Reed, executive director, Physical Plant Office;  Monique French, associate professor, College of Business; Jeff Spicher, associate dean, Helen and Arthur E. Johnson Beth-El College of Nursing and Health Sciences; Carolyn Fox, executive director, Facilities Services; Brad Bayer, senior executive director, Student Life and Leadership; and Jevita Rogers, executive director, Office of Financial Aid and Student Employment.
Related Post