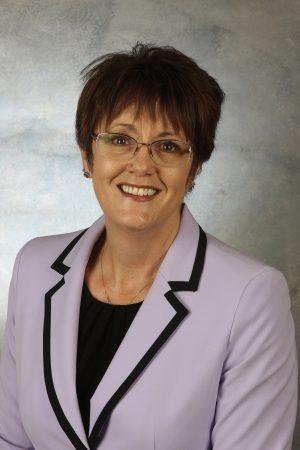 Susan Szpyrka, who achieved both personal and professional milestones at UCCS, will retire Dec. 31, completing almost 34 years of university service.
Szpyrka, senior vice chancellor, Administration and Finance, announced her plans June 19 with the goal of providing Chancellor Venkat Reddy time to search for her replacement before she leaves, as well as assist him with the transition.
"I've spent my entire professional life at UCCS," Szpyrka recently said. "I've had amazing opportunities and the privilege of working with outstanding leaders including Chancellor Venkat Reddy, Chancellor Emerita Pam Shockley-Zalabak and former Vice Chancellor Brian Burnett."
She's not kidding about spending a lifetime at UCCS.
Szpyrka spent her early years in the Cragmor neighborhood south of campus attending Bates Elementary, the current site of West Edge Apartments, before graduating from Widefield High School. She earned both undergraduate and master's degrees from UCCS, met her husband, John, on campus, and steadily made her way through the staff ranks. She began in the bookstore, then became a campus police officer, received promotions, and served eight years as both chief of police and director of the Public Safety Department.  In 2006, she was named associate vice chancellor for administration and finance and in 2013 vice chancellor, where she is responsible for the university's annual budget in excess of $228 million. Nearly every building on campus was either constructed or renovated with her assistance. The Haehn Community Room in Dwire Hall bears her family's name.
Reddy praised Szpyrka's commitment and service, noting that "Susan's legacy is all around us. She has provided valuable leadership and amazing service to the university for more than three decades.  She developed numerous new business opportunities, including converting campus food services to self-operation and developing financial models for public and private partnerships. We have all benefitted from her tireless work, fiscal stewardship, and endless commitment to doing what was right for the university. The work she has done will assist UCCS many years into the future."
Reddy said he will consult with campus constituents to form search plans and responsibilities for Szpyrka's replacement.
Meanwhile, she will make good on her promise for change. She and John plan to move to Hawaii to be closer to their son, J.T., a U.S. Army officer, and his family. The move means packing light. As Szpyrka surveyed her corner office on Main Hall's fourth floor, she noted that the plaques celebrating the dozens of awards she has received over the years will not make the trip. Instead, they'll be donated to the University Archives Department.
"I have incredible memories of my time at UCCS," Szpyrka said. "I am so very thankful to the amazing and talented staff members in the administration and finance division as well as the staff across the campus who give 100 percent every day to the UCCS students we serve.  I have also been so fortunate to work with a brilliant faculty.  These experiences cannot be replaced and will forever enrich me."