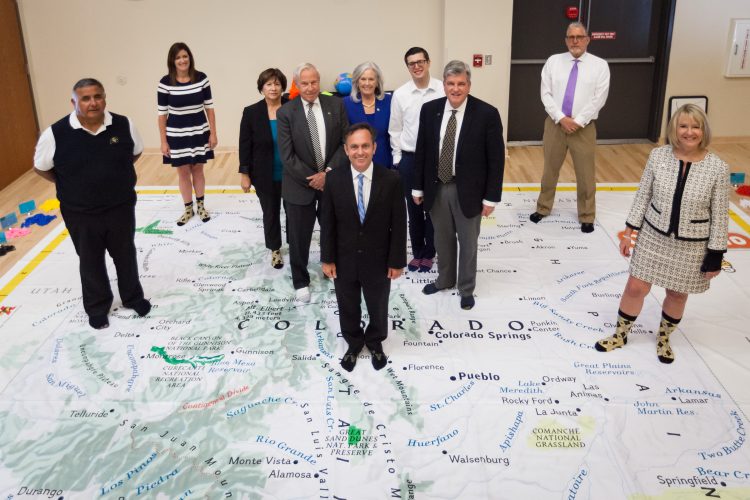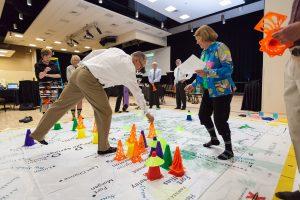 Members of the CU Board of Regents went back to school June 16, learning a bit about the state's history and geography.
Rebecca Theobald, assistant research professor, Geography and Environmental Studies Department and coordinator for the Colorado Geographic Alliance, led the regents and campus leaders in lessons including shifts in the state's industries and population using a giant Colorado map prior to the official start of the second day of the Regents' meeting.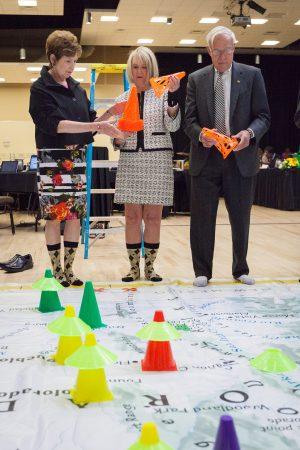 "And what was the second largest city in Colorado in 1890?" Theobald asked.
Soon, a regent was directed to place a marker on Pueblo and, later, Colorado Springs, which was the state's third largest city at that time. Denver was the state's largest city in 1890.
The stocking-footed regents walked on the vinyl map, placing markers, observing the locations of their districts and getting a quick lessons in migration patterns and history.
The Colorado Geographic Alliance is part of a network of 54 geographic alliances supported by the National Geographic Society. COGA provides resources and professional development for elementary and secondary teachers to geography education in Colorado schools. Administrative offices are located on campus. Visit the COGA website  for more information.
— Photos by Jeffrey M Foster