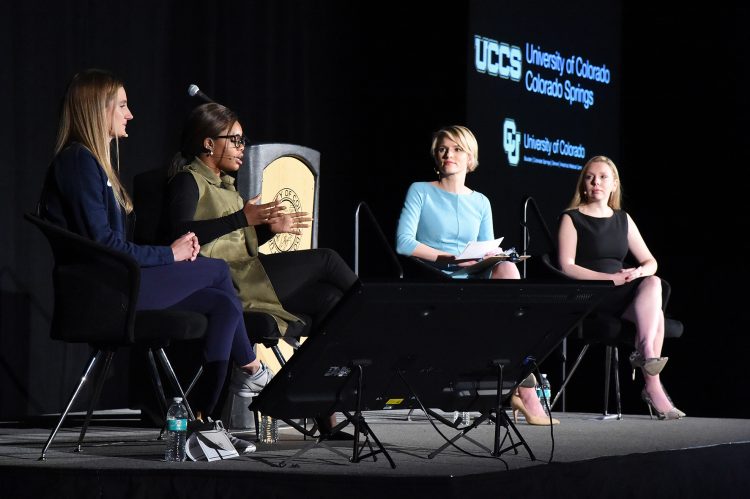 Three elite female athletes described their very different paths to the Olympics but hit on common themes of perseverance, passion and self-confidence during an April 25 panel discussion at the Gallogly Events Center.
Gold-medal gymnast Gabby Douglas headlined the 2017 Significant Speaker series panel. She was joined by Paralympic gold medalist triathlete Allysa Seely and U.S. national champion and Olympic figure skater Rachael Flatt (a graduate of Cheyenne Mountain High School). The discussion was moderated by Fox 21 anchor Lauren Ferrara.
More than 1,000 students, faculty, staff and community members, including dozens of girls dressed in sparkly leotards and Olympic-logo emblazoned attire, attended the event.
The three athletes answered a host of questions from Ferrara and audience members. Throughout, the athletes referenced their hard work, passion for their sport and support from family and friends.
When asked about the best advice they've ever received, Douglas said her mother told her to go after what she wants in life.
But there have been times, Douglas admitted, when she fell back on what she called a bad habit – "chucking," known in the gym as performing a particular skill in competition without sufficiently practicing it. That habit, she said, kept her at times from reaching her full potential.
"No matter how much talent you have, it's not enough," Douglas said. "You have to work hard."
Flatt said she was struck by a bumper sticker she saw while struggling with injuries and a tough training regimen: "to quit doesn't exist."
Seely said that over time, she has changed her thinking about the sacrifices required of an elite athlete. Those sacrifices – missed weddings, early nights at home – are an investment in her performance.
Flatt, a Stanford University graduate, joked that she held a retirement party (for skating) at age 21. Her interests now include cooking and hiking.
Douglas, who started gymnastics at age 6, wants to try skateboarding, martial arts and acting.
Seely said she recently began gardening and growing her own food.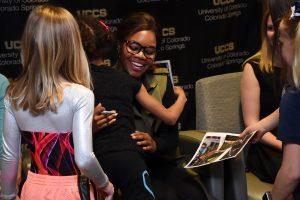 After their panel discussion, the athletes posed for pictures with dozens of attendees who lined up on the first floor of Dwire Hall.
Previous Significant Speakers include Jerry Greenfield, Bill Nye, Neil deGrasse Tyson, Randi Zuckerberg and LeVar Burton.