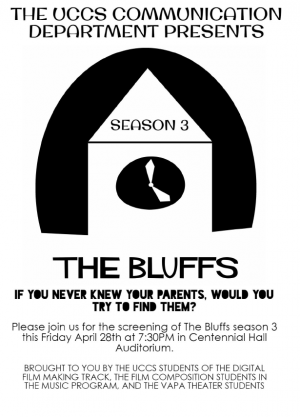 The Communication Department will premiere the third season of its award-winning drama, "The Bluffs," at 7:30 p.m. April 28 in Centennial Hall Auditorium.
The event is free. No tickets are required. In addition to "The Bluffs," three short original films produced by UCCS students or alumni will also be shown.
The third season of the three-part TV series focuses on a girl's search for her biological parents and her journey with three friends to find them.
Students enrolled in the department's digital filmmaking track and from the Visual and Performing Arts Department's music and theater programs produce the episodes. David Nelson, professor, Communication Department, directs the efforts. The productions allow the students to learn film and storytelling techniques and are set on campus and in other Colorado Springs locations.
The series began in 2015 as part of UCCS 50th anniversary celebrations. In 2016, the production earned an Emmy Award from the National Academy of Television Arts and Sciences Heartland Chapter.