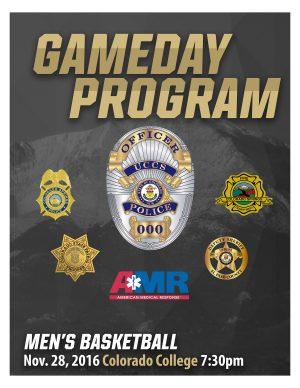 UCCS will recognize first responders from six agencies to open the 2016-17 home men's basketball season Nov. 28 for "First Responders Appreciation Night in Honor of Officer Garrett Swasey."
The Mountain Lions host Colorado College in a 7:30 p.m. contest at the Gallogly Events Center.
"We are celebrating Garrett's life and the bravery he showed to save others," Chancellor Pam Shockley-Zalabak said. "He was a member of the Mountain Lion family, and we are proud to recognize his accomplishments and members of the other responding agencies who work every day to protect our communities."
Swasey was killed when he responded to an active shooter at a Colorado Springs Planned Parenthood clinic Nov. 27, 2015. He was the first UCCS police officer killed in the line of duty and responded as part of a mutual response when a call for aid was issued.
On Nov. 18, the Police Foundation of Colorado Springs will honor more than 60 people during its  annual  Medal of Valor luncheon. The foundation's 31st annual event at The Broadmoor, will recognize 59 sworn Colorado Springs police officers, two El Paso County Sheriff's deputies and one community service officer. The ceremony will also honor Swasey.
Representatives from the UCCS Police Department, Colorado Springs Police Department, Colorado Springs Fire Department, El Paso County Sheriff's Office, Colorado State Patrol and American Medical Response will take part in pregame activities. Four Colorado Springs police officers and an El Paso County sheriff's deputy were injured during the response to the shooter.
Leadership from UCCS, City of Colorado Springs and Colorado College will also be present to represent the University and community. A candle light vigil will be held before the game at 6:30 p.m., on the El Pomar Plaza.
Admission for the basketball game will be free. Donations will be accepted for the Garrett Swasey Scholarship Fund, and special UCCSSTRONG bracelets will be sold to benefit the fund. Members of the Swasey family will determine the scholarship criteria.