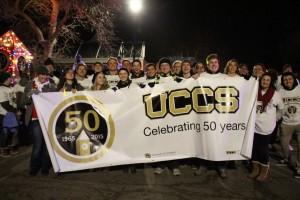 Nov. 30 is the last chance for students, faculty and staff to sign up to participate in the 32nd Festival of Lights Parade, happening Dec. 3 on Tejon Street in downtown Colorado Springs.
Family and friends are invited to dress up in UCCS gear and march past 60,000 spectators, showing off their UCCS pride.
Last year, more than 400 marched in the parade.  Stephen Cucchiara, assistant director, Student Life and Leadership, hopes at least 100 people will participate in this year's parade.
This year's float will continue the UCCS theme with the clock tower and mountains. UCCS will join other community groups, floats and marching bands in bringing holiday spirit to Colorado Springs.
To participate, contact Victoria Roybal, special events coordinator, Office of Student Activites, [email protected] by Nov. 30.
For more information on the Colorado Springs Festival of Lights Parade, click here.