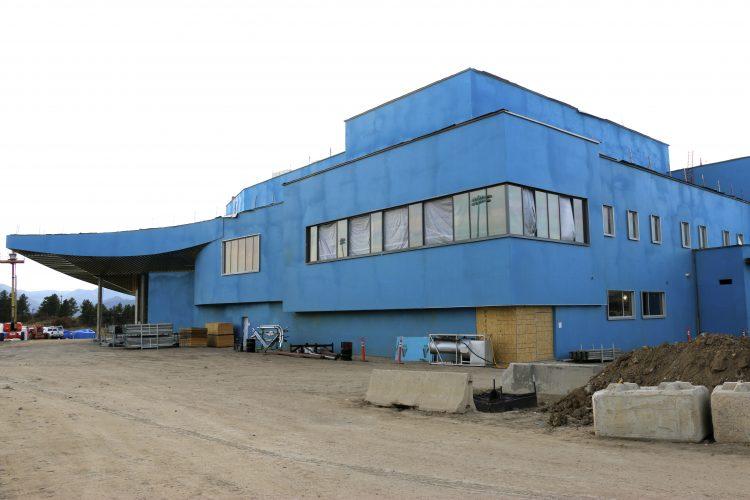 The walls are up, inside and out, and various spaces within the $70 million UCCS Ent Center for the Arts are starting to take shape.
As construction continues, tours of the center happen most Friday afternoons for members of the campus and Colorado Springs communities, after the construction crews have called it a day.
On a recent Friday, Drew Martorella, executive director, UCCS Presents, donned a hard hat and toured local arts lovers, UCCS staff and others through the cavernous building.
The site at 5225 N. Nevada Ave. is roughly the size of a city block, occupying what used to be softball fields and parking lots. The 92,000-square-foot arts center is scheduled to open in January 2018, boasting five venues, rehearsal studios, classrooms, practice rooms, balconies and gardens. UCCS partnered with local community arts organizations and three local school districts that supported the project from the earliest stages.
Each space in the arts center has been carefully planned for its intended use, down to the types of seat cushions in the theaters to the placement of mirrors in the dance studio, Martorella told the tour group.
In what will be the Dusty Loo Bon Vivant Theater, for example, a mezzanine will give the audience a new vantage point for Theatreworks shows. Seating (up to 250) will be flexible, and so will lighting. "We think the new space in the Ent Center will be one of the best small theaters of its kind in the country – a far cry from Theatreworks' beginnings in Dwire Hall and its current home in University Hall," Martorella said.
"This really takes us to another level altogether," he said.
In the Marie Walsh Sharpe Gallery of Contemporary Art, new climate control and security systems will make the larger space suitable for shows that GOCA has never been able to host on campus.
The 236-seat Chapman Foundations Recital Hall will be one of the most acoustically perfect venues in Colorado, Martorella said, thanks to work with nationally recognized acoustical consultants.
The 775-seat Main Stage Theater will be large enough to accommodate a symphonic orchestra, and flexible enough to feature world-class soloists, significant speakers, film, jazz, dance and other types of programming.
A dance studio on the second floor offers sweeping views of Pikes Peak – so too does the front lobby and a planned sculpture garden.
The center also will house the Osborne Studio Theater, along with the UCCS Music Program and UCCS Theatre and Dance Program.
"Every program in this building is taking a huge leap forward," Martorella said.
Community partners that hope to use the center include Colorado Springs Dance Theatre, Colorado Springs Children's Chorale, Chamber Orchestra of the Springs and Colorado Springs Youth Symphony, to name a few, he said.
"We want to be a nexus for arts here, not only for the campus but for the community too," Martorella said.
Construction work at the center is on schedule for a January 2018 opening, Martorella said.
Once the interior construction work begins to wrap up, tours will cease, all in anticipation of a big debut.
Design of the UCCS Ent Center for the Arts is led by H3 Hardy Collaboration Architecture, New York, with Semple Brown Design, Denver, serving as the architect of record. JE Dunn Construction, Colorado Springs, is general contractor for the building. Bryan Construction, Colorado Springs, was general contractor overseeing the design/build of the infrastructure improvements.
UCCS has a 15-year marketing and operating agreement with Ent Credit Union valued at $12.6 million. Other funds came from the Colorado General Assembly,  University of Colorado Office of the President and private donors.
Fundraising continues for some named spaces, including the balcony, studios, gardens and others.
An Arts Tile Program is underway to support the building fund, Gallery of Contemporary Art, Visual and Performing Arts Department and Theatreworks Ent Participation Fund. Faculty, staff, students and community members are invited to purchase a personalized tile starting at $250. Faculty and staff can use a payroll deduction to purchase a tile, said Jaime McMullen Garcia, director, University Development. Tiles will be prominently displayed in the center's lobby. To learn more about the tile program, email [email protected].
To book a tour of the center, click here.
— Photos by Savannah Waggoner and Joanna Bean