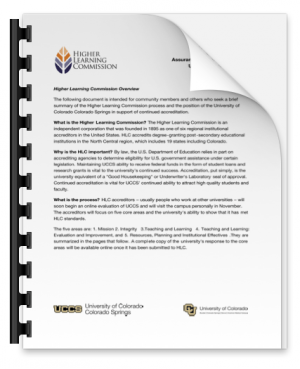 With one week left for preparations for a Higher Learning Commission review team campus visit, Chancellor Pam Shockley-Zalabak on Monday urged faculty and staff members to consider how they can contribute to the crucial accreditation process.
A five-member HLC review team will spend two days on campus Nov. 14.-15 studying virtually every aspect of the university and meeting with a variety of constituencies.
At Monday's Chancellor's All-Campus Forum, Shockley- Zalabak outlined the schedule for the review team's visit.
"We should take this very seriously," she said of the team's visit. "This happens once every 10 years. It is very important. But I believe that you – students, faculty and staff – represent us well."
Communique, the UCCS newsletter for faculty and staff, will house all information about the HLC visit and accreditation process, she said. Updated schedules will be posted here.
Shockley-Zalabak reminded faculty and staff members to read the university's HLC assurance argument and other related documents at uccs.edu/hlc before attending any of the Nov. 14-15 meetings.
Faculty and staff members have already been identified for certain content specific meetings. Other meetings, such as the drop-in sessions, are open to anyone. Students, faculty and staff also are requested to attend the Nov. 15 meetings about the five criteria in the assurance argument.
Shockley-Zalaback said she expects the HLC review team to focus on determining how well UCCS carries through on the goals outlined in its strategic plan and how well assessments, learning outcomes and program reviews shape everything from coursework to how various divisions set policy – "do you have a plan, and do you pay attention to the plan," she explained.
UCCS has made great strides in using assessments since the last HLC visit 10 years ago, she said. "We're using assessments far more productively," she said. "Can we improve? Absolutely. But the process and how we use it is greatly improved."