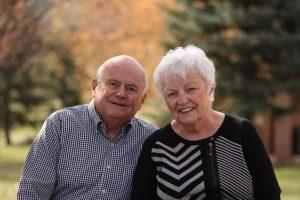 Local business leaders and community benefactors Ed and Mary Osborne will receive the 2016 UCCS College of Business Lifetime Entrepreneurship Award at a May 20 campus luncheon.
The award ceremony will take place in the UCCS Gallogly Events Center and routinely draws more than 400 hundred campus and community leaders.
"Ed and Mary have seen tremendous success in business due to their loyalty and integrity," Venkat Reddy, dean, College of Business, said. "Their generosity has deeply enriched our community, extending to the disenfranchised, the elderly, artists and those pursing an education. Selecting Ed and Mary as joint honorees for our eighth annual event is a logical choice."
Ed Osborne's career is distinguished by 213 combat missions as a fighter pilot in the Vietnam War, a professorship at the Air Force Academy lasting 13 years, and being the lead engineer on a team which developed crash-worthy aircraft seats at AMI Industries, the same company he would later co-own and save from bankruptcy.
Mary Osborne was one of the few women who pursued accounting in the early 1970s. She served on the Colorado State Board of Accountancy and completed her 39-year career as the first female senior partner of local firm Osborne, Parsons and Rosaker.
The Osbornes are ardent supporters of several local nonprofits including Pikes Peak Hospice, Discover Goodwill, Colorado Springs Fine Arts Center, Myron Stratton Home, Cheyenne Mountain Zoo, Colorado Springs Philharmonic and First United Methodist Church.
At UCCS, the Osborne's passionate advocacy is evident in their support of initiatives benefiting students, programs and the community. Their philanthropy has assisted UCCS Theatreworks, the Murray Ross Endowment, UCCS Aging Center, several scholarship programs including Reach Your Peak, and the UCCS College of Engineering and Applied Science, after whom the Osborne Center for Engineering and Science building was named. In 1999, Ed Osborne helped launch the UCCS Department of Mechanical and Aerospace Engineering, now one of the largest departments in the College of Engineering and Applied Sciences.
Ed and Mary Osborne follow a list of distinguished past award recipients including Gary Loo (2009), Bruce Shepard (2010), Joe Woodford (2011), Cari Shaffer (2012), Chuck Murphy (2013), David Jenkins (2014) and Jon and Becky Medved (2015).
The award luncheon is a fundraising event to support the College of Business and its alumni and student initiatives including a mentorship-focused Career Coaching Program. The luncheon begins at 11:30 a.m. May 20 in the Gallogly Events Center on the UCCS campus. Tickets are $150 each, $95 for UCCS College of Business alumni, and are available at www.uccs.edu/LEA or by calling (719) 255-5174.
Dean's Circle sponsors of the award luncheon include Gray Line Tours of Colorado, Inc., Kirkpatrick Bank, Luisa Graff Jewelers, Nunn Construction, Inc., Osborne Parsons and Rosaker, LLP, Rampart Supply and Winslow BMW of Colorado Springs.