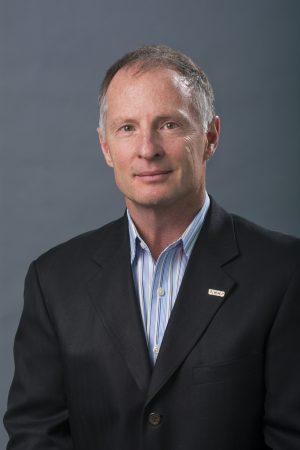 A leader in the redevelopment of property near UCCS, as well as several other retail centers, will be honored at the 42nd UCCS spring commencement ceremony May 13.
Kevin Kratt, president and founder, Kratt Commercial Properties, will be recognized with the University Medal by the CU Board of Regents during spring commencement exercises scheduled for 10:30 a.m. (College of Letters, Arts and Sciences) and 2:30 p.m. (Helen and Arthur E. Johnson Beth-El College of Nursing and Health Sciences, College of Business, School of Public Affairs, College of Education, College of Engineering and Applied Science) at the Broadmoor World Arena, 3185 Venetucci Blvd.
UCCS holds two commencement ceremonies to ensure that graduates can bring friends and family to the ceremony. Approximately 1,000 graduates are expected to participate. About 1,400 degrees will be awarded this spring, according to the Office of Admissions Services.
The University Medal is awarded in recognition of those persons whose achievements and contributions are particularly associated with the university. Kratt serves as a member of the member of the board of directors for Regional Connect which bridges UCCS and community partnerships, serves as a fundraising leader for the under-construction UCCS Ent Center for the Arts, and is a member of both the CU Ambassadors and the CU Foundation Board of Trustees.
Along with co-developer Tom Cone, Kratt developed University Village Colorado on the western edge of UCCS property. UVC is the first project of the recently created Colorado Springs Urban Renewal Authority.  In revitalizing North Nevada Avenue near campus, he worked closely with UCCS faculty, staff and students to understand what commercial needs best complemented the university.
Now, a combination of small shops offering a variety of services, restaurants and large national retailers take the place of dilapidated motels and auto repair shops that once were the gateway to campus. He began a program for UCCS sculpture students where two installations are selected annually for display along North Nevada. Eight student sculptures adorn the UVC Art Walk, providing students the opportunity to both build and showcase their creativity. Additionally, more than 500 students now work at UVC stores while continuing their educations at UCCS.
While UVC is the closest shopping center to UCCS, it is not the only Kratt Commercial Properties endeavor. Other projects include Broadmoor Towne Center, Cheyenne Mountain Center, Rustic Hills South shopping center and The Shops at Project Landing. Since entering the Colorado real estate market in 1985, Kratt has dedicated his career exclusively to the development and full-service brokerage of retail shopping centers.
Previous award winners include Peter Teets, an aerospace executive and former undersecretary of the U.S. Air Force; Margot Lane, an alumna and community benefactor; and Sharon Berthrong, an alumna and community leader and benefactor.
For more information about commencement ceremonies, visit www.uccs.edu/commencement