UCCS, Pikes Peak Community College and El Paso County are working together on a fundraising project to secure more than $1.3 million in scholarships for local students.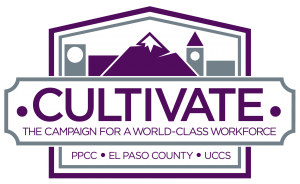 Local contributions will be matched up to $668,000 through a matching grant from the Colorado Opportunity Scholarship Initiative to provide new scholarships for students in E Paso County.
The partners will launch a fundraising campaign with a kick-off event 5:30-7:30 p.m. Monday, May 9, at the Colorado Springs Pioneers Museum, 215 S. Tejon St.
When the fundraising campaign reaches the match, students will have access to more than $1.38 million in scholarships designed to strengthen the local workforce.
The campaign, Cultivate – The Campaign for a World-Class Workforce, has until Dec. 31 to raise the matching funds.
"A diverse workforce with the knowledge and skills to fill a wide variety of positions open throughout our region is crucial to the forward momentum of El Paso County," said El Paso County Commission Chairwoman Amy Lathen.
"There are currently about 14,000 jobs unfilled in El Paso County with an average salary of $64,000. Through education, we will retain our best and brightest, placing them in these open jobs and making this a great place for businesses to locate, succeed and expand."
About 200 students will benefit from the award. PPCC scholarships will be for two years for each student, and UCCS scholarships for four years. Scholarships will be awarded to students based on financial need, beginning in fall of 2017.
"We are delighted to receive this matching grant, which will benefit students and the workforce in our region," Chancellor Pam Shockley-Zalabak said. "Through our partnership, UCCS and PPCC provide a pathway to hundreds of careers in nursing, information technology, business, manufacturing and more. Now, more than ever we need your help in creating access to the meaningful wages available in our community."
"Together with our El Paso County partners we are cultivating a pipeline of high quality employees for the region, and with community support, we will create a brighter future for the next generation," said PPCC President Lance Bolton.
"With more than 6,700 high school graduates this year, this community has tremendous opportunity to benefit our economy by investing in our youth to successfully enter the workforce."
Specific details about applying for the new scholarships are available at ppcc.edu/scholarships and at uccs.edu/scholarships.
ABOUT THE COLORADO OPPORTUNITY SCHOLARSHIP INITIATIVE
In 2014, the Colorado Opportunity Scholarship Initiative Matching Student Scholarship Grant was created to solicit applications from eligible counties, institutions of higher education and community workforce programs to increase the amount of scholarship giving available for post-secondary students in Colorado.
The grants help increase the attainment of post-secondary credentials and degrees for underserved students in the state by increasing accessibility and affordability.
Leveraging $7 million of start-up funds, the initiative partners with local programs to match new scholarship dollars 1:1. The program is designed to:
Generate greater availability of scholarship dollars;
Promote scholarship programs that include services to help students persist and complete a degree or certificate;
Encourage communities to create or leverage partnerships with scholarship foundations to assist their students with covering the costs of higher education and motivate students to pursue a degree or credential; and
Align tuition assistance programs with workforce development programs