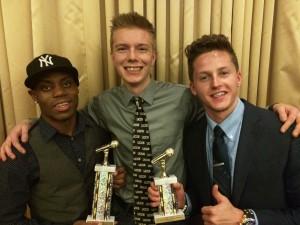 A UCCS student was awarded top honors last week for a radio interview he did for the UCCS Radio internet station.
Alexander Nedd's radio story about local firefighters helping fight wildfires in northern California was named best news interview by the Intercollegiate Broadcasting System. Nedd's piece aired last fall.
Another student, Brandon Applehans, was a finalist for best sports play-by-play. Applehans announced the men's basketball RMAC championship game against Metro State College in spring 2015.
"It's really cool," Ben Sloan, senior media specialist, Media Services, and staff adviser to UCCS Radio, said of the national recognition. "We started as a small unknown entity. Now our campus gets to be known as having award-winning radio."
Sloan traveled to New York with three UCCS students earlier this month for the annual Intercollegiate Broadcast System conference and awards ceremony. IBS is an association for high school and college radio and community stations and webcasters. Sloan also taught a session about audio recording at the conference.
UCCS Radio launched 13 years ago. Sloan became staff adviser two years ago. Last year, UCCS Radio was an IBS finalist in three categories.
Kyle Boyle, a UCCS sophomore and station student manager, also traveled to the conference. He said he hopes the national recognition sends a message to other students that they can participate in UCCS Radio.
UCCS Radio operates as an independent organization and club within UCCC's Student Life and Leadership program with Student Government Association funding.