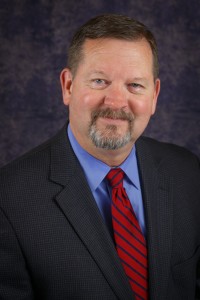 An associate dean of the School of Leadership and Education at the University of San Diego and former faculty member at the U.S. Army War College will be dean of the UCCS School of Public Affairs.
George E. Reed, currently associate dean of the School of Leadership and Education Sciences, University of San Diego, was selected following a national search. His appointment was announced by Mary Coussons-Read, executive vice chancellor, Academic Affairs.
"Dr. Reed brings a wealth of public sector leadership and experiences to UCCS," Coussons-Read said. "As the incoming dean of the UCCS School of Public Affairs, I am confident he will excel in his leadership of faculty and staff in creating an exceptional learning environment for students."
Since 2006, Reed has been a faculty member in the Department of Leadership Studies at the University of San Diego, a private Roman Catholic university that offers 42 baccalaureate degrees, and several degrees in law, nursing and other doctorate programs. He was named associate dean in 2012. Previously, he was professor and director of command and leadership studies at the U.S. Army War College at Carlisle Barracks, Penn. His career began as a military police officer in the U.S. Army and his first tour of duty was at Fort Carson. He retired from the U.S. Army as a colonel after 27 years of service.
He earned a Ph.D. from Saint Louis University, St. Louis, Mo., a master's degree from The George Washington University, Washington, D.C., and a bachelor's degree from the University of Central Missouri. His research and writing address leader development, public sector leadership, and ethics. He teaches courses in leadership, ethics, and organizational theory and behavior.
"I consider it a great privilege to serve the students, staff, and faculty of the university as dean of the School of Public Affairs and look forward to contributing to our community beyond the campus," Reed said. "It is apparent that so many have given selflessly to build an academic institution of excellence and I am excited to play a role in a most promising future. My wife, Lucy, and I have many fond memories of the region, so returning at this stage seems like a full circle."
Reed replaces Terry Schwartz, interim dean, School of Public Affairs. Since 2004, Schwartz served as associate dean. In June, she was named interim dean following the independent accreditation of the master of public administration program and separation from CU Denver. She will continue to serve the university as associate vice chancellor for academic and faculty affairs.
A nine-member search committee of faculty, staff and community members reviewed applications and made recommendations to Coussons-Read and Chancellor Pam Shockley-Zalabak. Reed visited UCCS March 17.
Related Posts