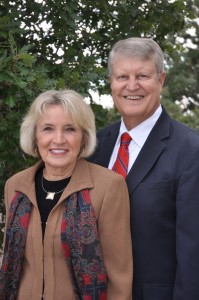 Jon and Becky Medved, local business pioneers and philanthropists,will receive the 2015 UCCS College of Business Lifetime Entrepreneurship Award at a May 8 campus luncheon.
Community and campus leaders will fill Gallogly Events Center in celebration of the Medved's excellence in business and advocacy of several non-profits over the past 30 years.
"Jon and Becky have an inspiring record of transformative leadership both individually and as a couple," Venkat Reddy, dean, College of Business, said. "We are delighted to select them as joint honorees for ourseventh annual event."
Jon Medved's career primarily focused on organizational turn-arounds, leading companies such as Current, Walter Drake and CHEFS Catalog. B ecky Medved, an MBA alumna of the UCCS College of Business, found her niche with start-ups as a principal in a marketing services company, Saligent, Inc., and a partner in two aging service technology businesses, RSCPros, LLC and Peak Age, Inc., both launched in collaboration with the UCCS Aging Center. The couple first met while working as colleagues at Current in the early 1980's and today are married with two grown children.
The Medveds are dedicated volunteers and supporters of the Myron Stratton Home, the Colorado Springs Pioneers Museum, UCCS Theatreworks, Discover Goodwill, Colorado Springs Conservatory and others. Becky Medved serves on the boards of the UCCS College of Business Alumni Association and Pikes Peak Community College, and she is also a trustee of both the University of Colorado Foundation and Penrose- St. –Francis Health Services Board. Jon Medved currently serves on board of directors for Woodford Manufacturing, G.E. Johnson, and Nehring Associates.
Jon and Becky Medved follow a list of distinguished past award recipients including Gary Loo (2009), Bruce Shepard (2010), Joe Woodford (2011), Cari Shaffer (2012), Chuck Murphy (2013), and David Jenkins (2014).
The award luncheon is a fundraising event to support the College of Business and its alumni and student initiatives including a newly launched Career Coaching Program. The luncheon begins at 11:30 a.m. May 8 in the Gallogly Events Center on the UCCS campus. Tickets are $150 each, $95 for UCCS College of Business alumni, and are available at www.uccs.edu/LEA or by calling (719) 255-5174.
Dean's Circle sponsors of the award luncheon include Kirkpatrick Bank, Luisa Graff Jewelers, Nunn Construction, Inc., Penrose-St. Francis Health Services, Gray Line Tours of Colorado, Inc., and GE Johnson Construction.
— Samantha Wood