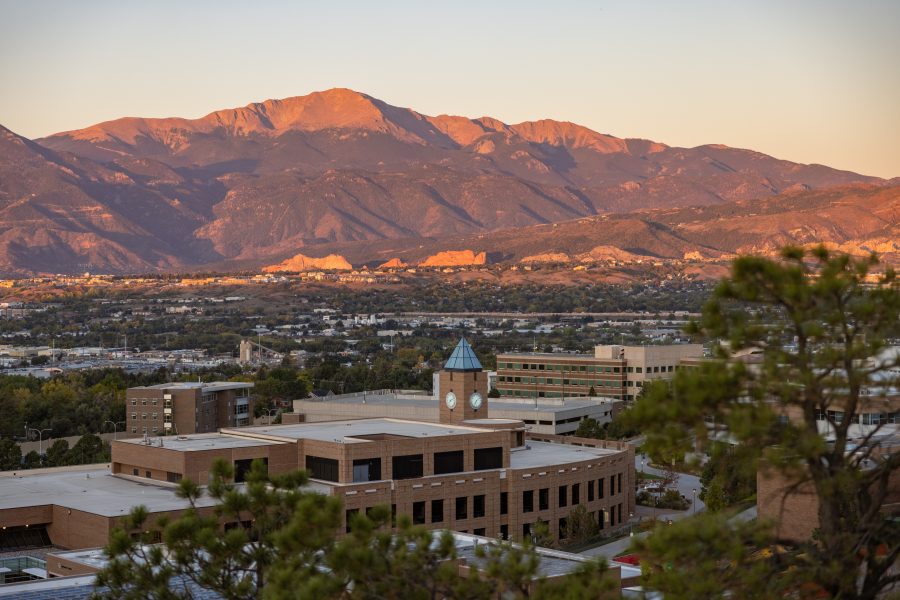 JAWS, or Jumpstart the Aging Workforce Solutions, is a two-year strategy aiming to address the long-term care crisis exacerbated by COVID-19.
Judy Scott, UCCS assistant professor and RN to BSN Program Coordinator, and Lynn Phillips, UCCS assistant professor and Director of the Simulation Learning Center, along with Penny Whitney of Aponi Partners and Arij Gabir, Accelerated Bachelor's of Science in Nursing student, are helping lead the charge. And they're giving the community plenty to chew on regarding the crisis and how UCCS and El Paso County plan to tackle it.
"Together, we're here to take a bite out of long-term care health workforce crisis," said Scott.
While the long-term care crisis is happening all over the nation, Colorado is one of the top three fastest-aging states in the U.S. After COVID caused major staffing issues, seven long-term care facilities closed in the state alone, with four of those being in El Paso County. This leaves those in need of long-term care without a place to get it, like the patient who's spent two years in the hospital because there aren't options for them with the skilled care they need.
This rapidly growing problem will only increase with aging populations and is a nationwide issue.
"This is a game we're all in," said Whitney. "It's not just our community's issue, it's a state issue, it's a national issue. A lot of people talk about it. But the important thing is UCCS and El Paso County are doing something about it."
JAWS is a four-step strategy with focus on a recruitment pipeline and connecting potential workforce members with community leaders and organizations that work with long-term care. Working with Aponi Partners, Inc., a local consulting firm, UCCS has received $150,000 in grants to fund JAWS.
Step one of JAWS involves listening groups with various community members from care facilities and similar organizations. The first session was with long-term care and service providers, assisted and supported living facilities and skilled nursing facilities. The second listening session was comprised of educators from UCCS as well as the community including high school, vocational education and groups that support student continuing education such as Peak Education. Nonprofits have also taken part in these listening groups, including Innovations in Aging and Pikes Peak Workforce Center.
The second part of the strategy focuses on marketing and getting the word out to students, potential employees and employers, in part by collaborating with Aponi Partners. One aspect of this step involves a JAWS-specific site on the Beth-El College website, where students, interns and employers can interact, ask each other questions and share information. Trainings, education, simulations and other resources will be posted for users to explore and take advantage of.
Step three of JAWS centers around future potential workforce members via high schools and university students. One way Scott and Phillips have connected with these students is through four hour interactive tours of Hybl Health Performance Center and the Simulation Learning Center where students can practice CPR and learn other basic skills, like administering epinephrine for anaphylaxis. They recently had students from the Denver School of Science and Technology visit, with two more schools scheduled for this semester and plans to continue the program in the spring.
Along with these interactive tours, UCCS staff brought their lifelike manikins to students at the Colorado Early College for them to learn more about and introduced them to Doris & Mack, community members used as a teaching strategy to educate students on the aging process and the type of healthcare needed for it.
Students also get the chance to hear firsthand experience about nursing programs by speaking with nursing students like Arij Gabir.
"I spoke a little bit about my background and my experience in the accelerated nursing program," explained Gabir. "They were interested in what exactly they needed to do to get into the field of nursing and to figure out exactly what they wanted to do in nursing. There were several students who were interested in how to become CNAs to get healthcare experience before going into nursing. It was really great seeing seeing some potential nursing students super interested in the field that were lively and had tons of questions for me."
The last step of JAWS is working on retention strategies for those currently in healthcare. These will address burnout and exhaustion and focus on wellness strategies. These strategies are still a work in progress, but Scott hopes to provide trainings and other resources in the simulation center.
"We hope that all staff who work in long-term care – that we can help them know that they're not alone, that they're supported," said Scott.
Penny Whitney notes that burnout and exhaustion, especially how they've been exacerbated by COVID, are major concerns that have a lasting impact on staff in long-term care. When meeting with the El Paso County Ethics Committee, burnout was one of the main talking points.
"COVID is not gone. It's still taking various forms, and it and the exhaustion of the staff all goes back into a circle. If you've got an exhausted staff, you're not going to have quality care. If you don't have a quality care environment, it's not the kind of place that's going to enthusiastically be attractive to the interns and students. So all of those pieces have to be in places to really address the workforce issue. That's the goal of JAWS," said Whitney.
About the UCCS College of Nursing and Health Sciences
The Helen and Arthur E. Johnson Beth-El College of Nursing and Health Sciences provides both traditional and accelerated undergraduate nursing, graduate nursing and health sciences degrees. Established in 1904, the college offers state-of-the-art facilities, including the Johnson Beth-El Clinics at the Lane Center, sports medicine programs through the William J. Hybl Sports Medicine and Performance Center and advanced clinical rotation supplementation through the Simulation Learning Center. Learn more about the Johnson Beth-El College of Nursing and Health Sciences at UCCS.