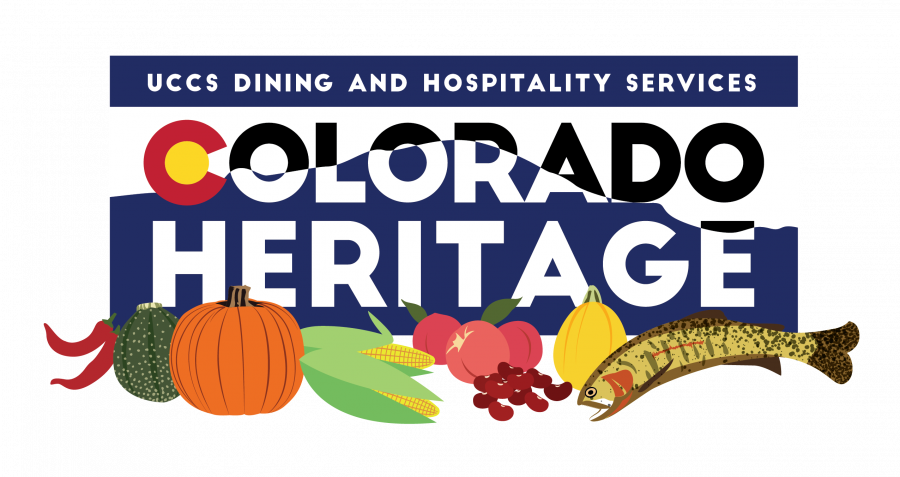 Celebrate the Centennial State with us! For one night only, Roaring Fork Dining Hall is putting on an all-you-care-to-eat feast of specially selected native ingredients. Learn about the history of food in Colorado and sustainability efforts at UCCS, and taste what Colorado has to offer.
The Colorado Heritage Dinner will be held on November 10 from 5 -7 p.m. at Roaring Fork Dining Hall. The dinner's theme is Colorado cuisine, so as many ingredients as possible will be sourced from Colorado. Dining and Hospitality Services already strives to provide locally-sourced food as much as possible every day, but for this dinner, special efforts have been made to emphasize Colorado regional cuisine, and this will be reflected in both the menu and décor.
Since this event is about education as much as celebration of food, the dinner will also feature two displays: one from the Office of Sustainability called "Zero Waste for the Centennial State" that will discuss environmental sustainability, and one about Colorado food history, influences, recipes, and trivia. Pay attention to the trivia – there will be a food history trivia contest at 6 p.m. with three rounds of Kahoot!, and prizes will include dining gift cards and swag from the bookstore. There will also be a sticker giveaway.
Prices for the dinner are either one meal swipe (for those with a meal plan) or $9.25 per person at the door. Guest swipes are also accepted for those who have them with their meal plans. Roaring Fork accepts credit cards, Clyde's Cash, and Flex Dollars.
Take a sneak peek at the menu below! (Subject to change with ingredient availability.)
Slopper Burgers
Pueblo Hatch Green Chili Bar (hand fried tortillas and toppings)
Fry Bread Taco Station Nopales slaw
Lamb Leg Carving (honey lavender)
Bison Short Ribs
Warm Lentils with tomato and goat cheese
Potatoes au crème with Colorado potatoes
Root Vegetable Mélange
Blue corn Cheese enchiladas
Lamb Meat balls with Peach Jam
Roasted Chayote Squash
Calabasita
Homestyle Mac and Cheese
Bijous pizza with honey dipping crust
Local cheese board with honey and crackers
…and more! Come try it all yourself!