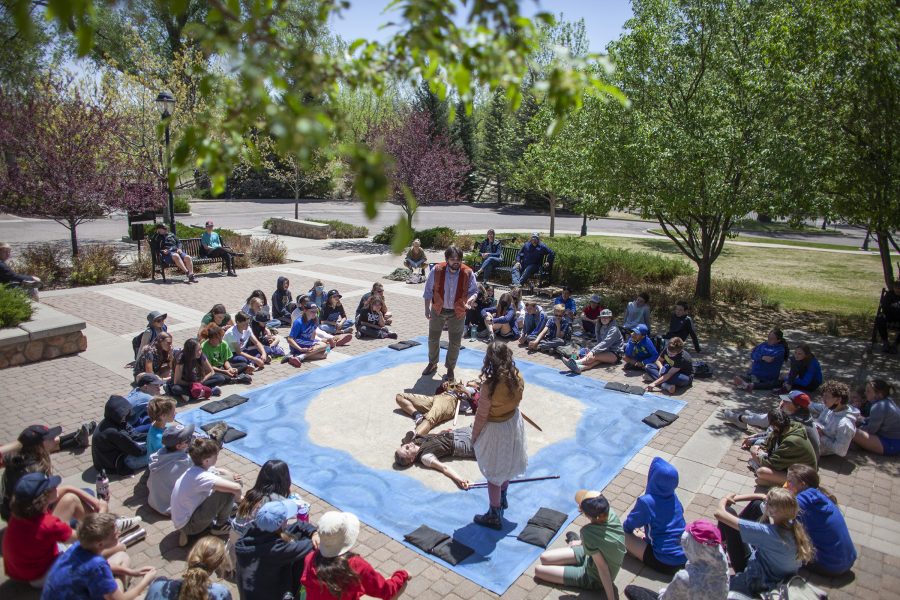 This summer, Theatreworks again brings accessible theatre to the vibrant communities of the Pikes Peak region through their Free-For-All program. Piloted in summer 2019, Free-For-All's mission is to create opportunities for the dynamic and diverse communities of Pikes Peak to gather and celebrate through live theatre.
After a spring of successful school residencies and performances, Theatreworks will tour a free 75-minute adaptation of "The Tempest" to libraries, community centers and parks in El Paso, Teller, Fremont and Elbert Counties.
This adaptation of "The Tempest" will feature all original Shakespearean text, retold in a fun, physical, fast-paced, family-friendly production perfect for a summer outing. Featuring a duke-turned-sorcerer exacting revenge, malcontent spirits, traitorous family members, young lovers and a hefty dose of magical hijinks, the story promises gasps and laughs in equal measure.
Six actors play multiple roles in this hilarious romp. In Free-For-All's unique casting model, all actors learn multiple roles and multiple actors learn each part; audience members who see the show multiple times may never see the same cast twice! For our outdoor performances, we encourage all to bring lawn chairs and blankets, and picnic with us as they enjoy this classic comedy.
This program is possible through the support of partners like Pikes Peak Library District (PPLD). PPLD is a key collaborator, hosting six performances in parks adjacent to five library branches in Colorado Springs, Fountain, Old Colorado City and Manitou Springs.
Other partners include Meadows Park Community Center, Downtown Ventures/First Fridays, the Colorado Springs Senior Center, Bell Tower Cultural Center in Florence, Simla Library and the Town of Monument. The program is supported in part by a generous matching grant from Shakespeare in American Communities, a grant program of Arts Midwest and the National Endowment for the Art, as well as by the Kum and Go Foundation.
In addition to their public performances, Theatreworks will also partner with Green Box Arts Festival to bring "Free-For-All: The Tempest" to Green Mountain Falls, Colorado, after a round of school performances and residencies with Districts 2, 3 and 11 in Colorado Springs and with the Arts Academy at Pueblo County High School this spring.
Creative team members include Caitlin Lowans (Theatreworks Artistic Director), costume designer Madison Booth; stage manager Brooke Callahan and props designer Marie Verdu (Theatreworks staff).
The cast features nine actors from our own community: Creston Cooper, Lily DiSilverio, Rachel Fey, AB Lugo, Ashley Morris Hill, Emily Newton, GJ Noel, Sierra Tune, and Sean Verdu.
Quick Facts
"Free-For-All: The Tempest"
By William Shakespeare
Public Performance Dates, Times, and Locations:
Saturday 5.21.22 – 2 p.m. – Manitou Art Center, sponsored by the Manitou Springs Library, 502 Manitou Ave, Manitou Springs
Friday 6.3.22 – 6 p.m. – Bancroft Park, sponsored by the Old Colorado City Library, 2408 W Colorado Ave, Colorado Springs, CO
Saturday 6.4.22 – 10 a.m. – Carnegie Garden, sponsored by Penrose Library, Colorado Springs, CO
Sunday 6.5.22 – 2 p.m. – Limbach Park, Monument, CO
Friday 6.10.22 – 2 p.m. – Colorado Springs Senior Center, Colorado Springs, CO
Saturday 6.11.22 – 10:30 a.m. – Meadows Park Community Center, sponsored by Cheyenne Mountain Library, 1943 El Paso Ave, Colorado Springs, CO
Saturday 6.11.22 – 2 p.m. – Remington Park, sponsored by Mobile Library Services, 2750 Pony Tracks Dr, Colorado Springs, CO
Saturday 6.18.22 – 10 a.m. – Bell Tower Arts Center, Florence, CO
Saturday 6.23.22 – 5:30 p.m. – Deerfield Hills Community Center, Colorado Springs, CO
Saturday 6.25.22 – 2 p.m. – George Fellows Park, sponsored by East Library, Colorado Springs, CO
Saturday 6.25.22 – 6:30 p.m. – Simla Community Park, sponsored by Simla Public Library, Simla, CO
Friday 7.1.22 – 6 p.m. – First Fridays – Downtown Ventures – Parking Lot at 112 East Boulder Street, Colorado Springs, CO
Sunday 7.3.22 – 1 p.m. and 5 p.m. – Green Box Arts, Green Mountain Falls, CO
Performance Length:
75 minutes, no intermission.
Audience details:
For outdoor performances, please bring a blanket or a beach chair. Most of our performance sites are outdoors and reservations are not required; for some performances, there may be specific requirements or policies. Please check the websites of our performance partners for more information on their policies and guidelines.
Price:
Free