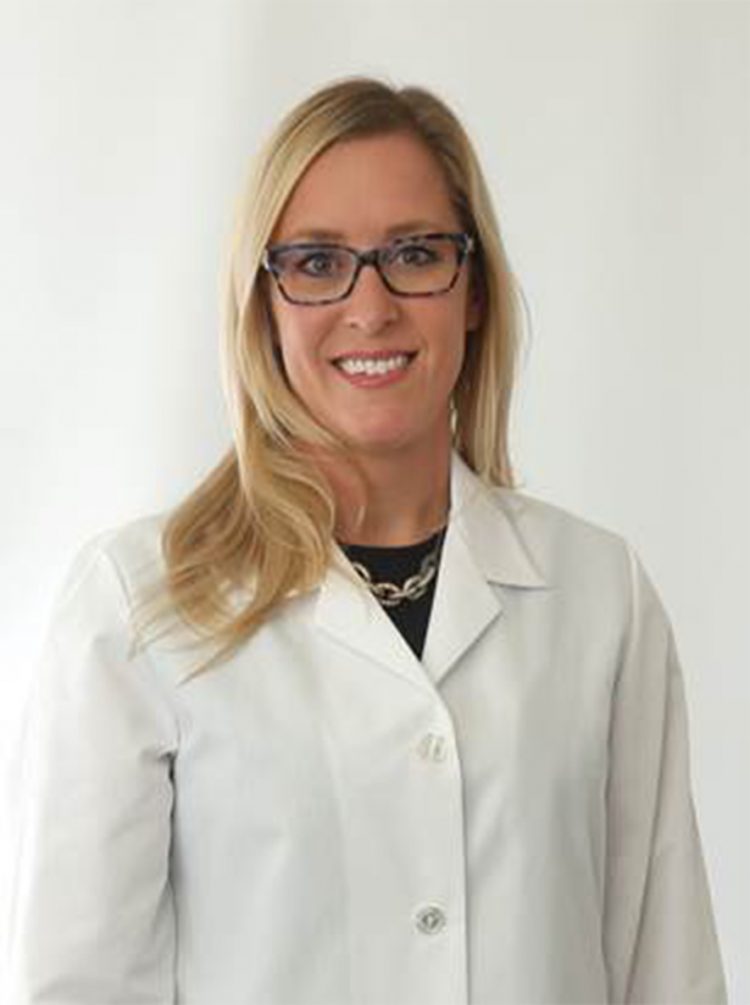 Former Air Force nurse Shannon Constantinides '05 comes from a long legacy of helping others. That's why she decided to get both her Bachelor of Science in Nursing (BSN) and Master's of Science in Nursing (MSN) at UCCS.
Over the past 15 years, she has put her degrees to use as an Air Force nurse, ER nurse, Orthopedic Surgeon, Family Nurse Practitioner (FNP) at UC Health, and, most recently, as a PhD student. Now, at 38, she is looking forward to using her vast knowledge and experience to teach two hybrid nursing courses at UCCS this fall, when the campus returns to in-person operations.
It's befitting that Constantinides ended up at UCCS not only to get her degrees, but to teach. Her family is native to Colorado Springs and Constantinides' mother got her BSN from Beth-El College of Nursing in 1977, then earned her MSN during the 1990s, all while working as a Neonatal Intensive Care Nurse.
Inspired to help others
Inspired by her mother, and a high school career report about Nurse Practitioners, Constantinides decided to enroll in UCCS to kickstart her career. Once there, she got real-world experience from a variety of professors and classes, including health practicums that offered extra clinicals in-between semesters.
"I would always sign up for those and get extra practice in the hospital — then be that much further ahead when the semester started," Constantinides recalls.
Such a willingness to go above and beyond came from Constantinides' long family history of military service, which dates all the way back to the Revolutionary War. Constantinides' father and grandfathers each served in conflicts throughout history, including World War I and the Civil War.
"The lore is that [General] Ulysses S. Grant received his commission to lead the Union Army while he was staying with our family, somewhere in Virginia," Constantinides says.
A saga of service
Constantinides decided to carry on this saga of service by joining the United States Air Force (USAF) just two months after graduating from UCCS with her BSN in 2005. During her four-year enlistment as an Air Force nurse at Travis Air Force Base near San Francisco, she treated troops injured during Operation Enduring Freedom (OEF) in Afghanistan and Operation Iraqi Freedom (OIF).
The main part of her role was to treat and help transport those suffering from polytraumatic wounds to one of five Veteran Affairs (VA) polytrauma treatment centers across the United States.
Throughout her time as an Air Force nurse, Constantinides was able to learn everything from routine tasks like treating wounds to complex procedures involving orthopedic surgery. One day, she was asked to "scrub in" and assist in a joint replacement, which piqued her interest.
Expanding nursing knowledge
After her service, Constantinides decided to move back to Colorado Spring to earn her MSN and NP credentials from UCCS. Even then, flexible online learning options from UCCS allowed her to start her degree while still working as an Air Force nurse, then keep pursuing it while working at Penrose Hospital in downtown Colorado Springs doing Perianesthesia Nursing.
But after witnessing many surgeries at Penrose, Constantinides knew she wanted to be the one operating on patients.
"I was like, 'I want to be on this side of the procedure, not the anesthesia side," Constantinides remembers. "So that was a really pivotal moment for me."
A surgery team typically consists of an Assistant Surgeon, a Scrub Technician, who controls the necessary instruments, and a First-Assist, who is usually another surgeon, NP, or Registered Nurse (RN). By getting her NP credential at UCCS, Constantinides was able to begin working with renowned Colorado Springs orthopedic surgeon, Dr. David Weinstein, before she even completed her American Academy of Nurse Practitioners (AANP) board certification exam.
Going for gold
For about eight years, Constantinides worked alongside Weinstein, who specializes in sports medicine, and even helped Olympic Athletes at Colorado Springs Olympic Training Center with medical issues.
But after learning so much with Weinstein, Constantinides was ready to elevate her thinking about healthcare, nursing, and surgery. In 2018, she started her research PhD in Advanced Applied Biospecifics and Mixed-Methods Research from Florida Atlantic University (FAU).
Although Constantinides and her husband have a place in Key Largo and travel to Florida often to fish, it was FAU's research-forward approach that made it the right choice for her PhD.
"Thankfully I had really good research classes at UCCS," Constantinides mentions. "That gave me a definite leg up."
So did her former UCCS professors, who helped her throughout her PhD and also ended up asking her to teach at UCCS this fall.
Bringing care to the classroom
According to Constantinides, it's hard for universities to find a practicing NP who has earned a research-based PhD, on top of previous education. But at UCCS, education is just as important as on-the-job training.
"If you're going to teach, especially in a clinical field, you need to have experience to teach from," Constantinides says. "So I waited to get my PhD and go into academics until a time when I felt like I had something to contribute."
As an educator, Constantinides will still keep up her NP certification and work with UCHealth to help patients because, to her, that's what makes nursing all worth it.
"I think nurses — we have such an important role in society," Constantinides says. "We take care of people because they're people."
A cure for burnout
It's this mindset that drives many nurses like Constantinides to keep working, even in light of COVID-19, during a time when "burnout" is all too common.
"My dissertation actually looked at emotional exhaustion in healthcare," Constantinides says. "Most people aren't actually 'burned out,' they're emotionally exhausted … But there are things you can do to improve adaptability — self-care is really important."
Right now, Constantinides feels like the world needs more care. It needs more capable Nurses and Nurse Practitioners. While these degrees may require more education and licensure or certification, she believes they pay off in flexibility and career placement. So far, Constantinides' learning has allowed her to do so much.
To this end, Constantinides' final word of advice for future nurses is to keep an open mind and don't get attached to just one role.
"What I tell students is: don't decide on one thing," she concludes. "There's so much you can do with a nursing degree — be open to all sorts of opportunities."