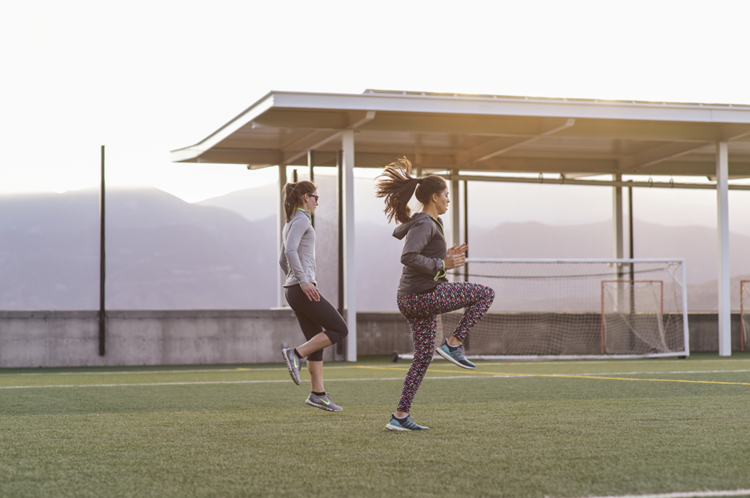 It won't surprise anyone to hear that, according to the most recent data, we're stressed.
Chrissie Bailey, Office Manager over at the Gallogly Recreation and Wellness Center, is trying to change campus culture to do something about that.
Bailey earned her Masters in Public Administration in December, and for her capstone project she analyzed data from the American College Health Association – National Faculty and Staff Health Assessment (ACHA-NFSHA) to take a deeper look into the mental health of faculty and staff, focusing on factors that impacted productivity and performance as well as stress.
"Both faculty and staff struggle with the same things," Bailey said, "primarily anxiety and difficulty sleeping. They report being overwhelmed and an inability to cope with stress – and over 80% of respondents reported increased stress levels due to the COVID pandemic."
In order to help their employees combat these issues, Bailey's department implemented wellness breaks – full-time staff get two to three 30-minute breaks each week specifically for wellness activities, including physical activity, mindfulness and meditation, self-care appointments and more.
"So far, it's been really successful," Bailey said. "People have reported decreased anxiety, reduced stress, increased energy and focus, and that they feel more valued and appreciated by the university as a whole."
Bailey hopes to popularize wellness breaks campuswide. She now meets with groups on campus and individual departments to talk about wellness breaks, how they work and how more departments and colleges can implement them. Bailey also collects survey data to track the benefits and see how people are using the breaks.
"There's a lot of lots of flexibility, and different groups implement them in different ways," she said. "Supervisors can build them into the schedule so everything gets covered, but still make sure everyone gets their break. You could combine them into one 90-minute break, schedule them next to lunch breaks…you can really arrange them however it works best for your department."
Some departments around campus are already seeing a positive change after launching a wellness breaks program.
"Wellness breaks have been an awesome initiative for our staff in the T. Rowe Price Career & Innovation Center and a great way to provide more structured time for employees to be intentional about wellness," said Danny Pape, Director of the Career & Innovation Center. "I personally run twice a week for my wellness breaks, and that physical activity has been a game changer for me in terms of being more productive at work and feeling like the institution is investing in me. I say this because I've always avoided doing physical activity during the work week due to all the hats I wear outside of working, including being a partner, father and son, and the wellness breaks feel like something I get to do for myself. I would encourage any department to consider wellness breaks as a way to encourage staff to bring their whole selves to work!"
Bailey also encourages faculty and staff to take advantage of campus resources for wellness breaks, including the campus recreation center, free yoga at GOCA, massage and chiropractic services, the Lyda Hill Institute CREATE program or even free counseling at the Lane Center.
"Barriers for using campus wellness resources are mainly time, the demands of the job, and not knowing what resources we have," she explained. "Wellness breaks address this on several levels. With university leadership scheduling time for their people to take care of themselves, it gives faculty and staff the permission to take the time out of their day for self-care. Studies and initial survey feedback show that people are actually more productive and efficient if they have a break and can step away, do something wellness related and then come back to their work."
The most frequent activities people participate in during their wellness breaks include exercise, meditation and mental health appointments, but Bailey has also worked with people who use the time to walk their dogs or call a family member.
"The great thing about a wellness break is that you can do a lot of different things with it," she said. "It can be tempting to use that time for activities that are not necessarily wellness-related, like running errands, checking the news or catching up on social media, but those things don't necessarily add to your well-being. We really do encourage people to use those breaks for wellness-specific activities, those things that studies do show help with anxiety and sleep difficulties, which is the things that were identified as what we struggle with most in terms of impacting our productivity as well as improved coping with stress."
According to Bailey, the mental health focus on campuses nationwide is transitioning from primarily focusing on students to including faculty and staff.
"More and more, colleges are finding that faculty and staff really need support as well, in order to be able to support the students," Bailey explained. "We're seeing a shifting focus to include the health of faculty and staff to create a campuswide culture around wellness and wellbeing, so the people who support the students are more equipped to do so."
Bailey encourages anyone who's interested in implementing wellness breaks in their department to reach out to her and schedule a meeting.
"It's working," she said. "It's making a dent in our stress levels, and our hope is that we'll add one piece to the puzzle to strengthen a culture of wellness on our campus."