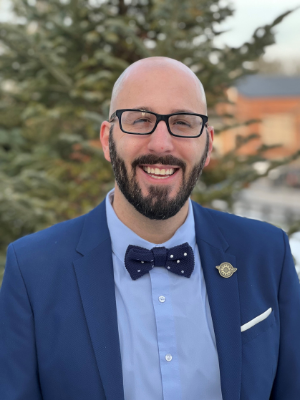 Dear UCCS community,
We have all started a new chapter in our lives, taken a leap of faith or tried something that may have been out of our comfort zone. Just a few weeks ago, my partner and our goldendoodle packed our car and embarked on a 40 hour drive across country to start a new life in Colorado Springs. As we passed by all the wonderful cities along the way, I wondered what Colorado Springs would be like and how long it would take for UCCS to feel like home.
There is so much to love about Colorado Springs and UCCS! From the breathtaking views of Pikes Peak to our kind and compassionate community members, I have already been so inspired by the many incredible community efforts across campus to create positive change through solidarity and support. In the past few weeks alone, I was grateful to have had the opportunity to see efforts to uplift others by visiting the Holocaust Day of Remembrance Memorial, attending the Ukraine Candlelight Vigil and listening to many heartfelt stories from students, faculty and staff about their experiences, commitments and ideas for fostering inclusion and belonging at UCCS.
There are such clear and cohesive ties between the University and the surrounding community that can only make us stronger on our DEI journey. Already, I have met people within Colorado Springs who have either graduated from UCCS or have some other close connection to the University. I love how excited and open everyone is to sharing stories about meeting a close friend or loved ones at UCCS, highlight favorite places to explore or dine in the community, or a fond memory of their experiences on campus. It truly does feel like UCCS and Colorado Springs have a deep connection and bond that date back to its founding.
I was also overjoyed to learn how these close ties between UCCS and Colorado Springs have led to critical initiatives that are having a profound impact on our community. This commitment to fuel success was evident when I had the opportunity to hear students share their lived experiences at the Bruce and Anne Shepard Reach Your Peak Scholarship ceremony. At this first in-person event since the COVID-19 pandemic began two years ago, students detailed how these scholarship opportunities allowed them to focus on academics, enjoy extracurricular activities and open doors they once did not think possible. These uplifting stories made me proud to be part of a community where scholarship opportunities like these exist, which reaffirm how critical equity in access and opportunity are on the lives of our students.
In addition to the many critical efforts already occurring, I know we can have an even greater impact! Higher education provides space for idea sharing, innovation and interacting with folks who are different from us so that we can learn and grow into our best selves. Working towards blending DEI into the full fabric of UCCS will only strengthen our mission-driven focus in transforming lives.
My hope is to continue spending the spring and summer listening and learning to get a full sense of this dynamic and unique culture before moving towards developing a strategic vision. Additionally, over the coming months, I will be facilitating a series of community dialogues to have the opportunity to get to know the campus better by centering the voices and lived experiences of our diverse community. I want to also acknowledge that I know this campus has already engaged in numerous dialogues over the past year, and I also know that many of you have shared your thoughts via various surveys. I hope to spend these next few months working tirelessly to both understand and place in context those results. I very much look forward to learning more about your lived experiences, change efforts in the community and areas of focus that can be enhanced.
To create and sustain authentic change, we must work together to foster an even greater campus culture where we can all belong and thrive. With a community-wide focus on inclusive excellence, we can elevate our impact on campus and within Colorado Springs. I very much look forward to our many partnerships and collaborations that celebrate, empower and uplift our agency and social responsibility!
With gratitude,
Rame Hanna
Vice Chancellor for Diversity, Equity and Inclusion
University of Colorado Colorado Springs