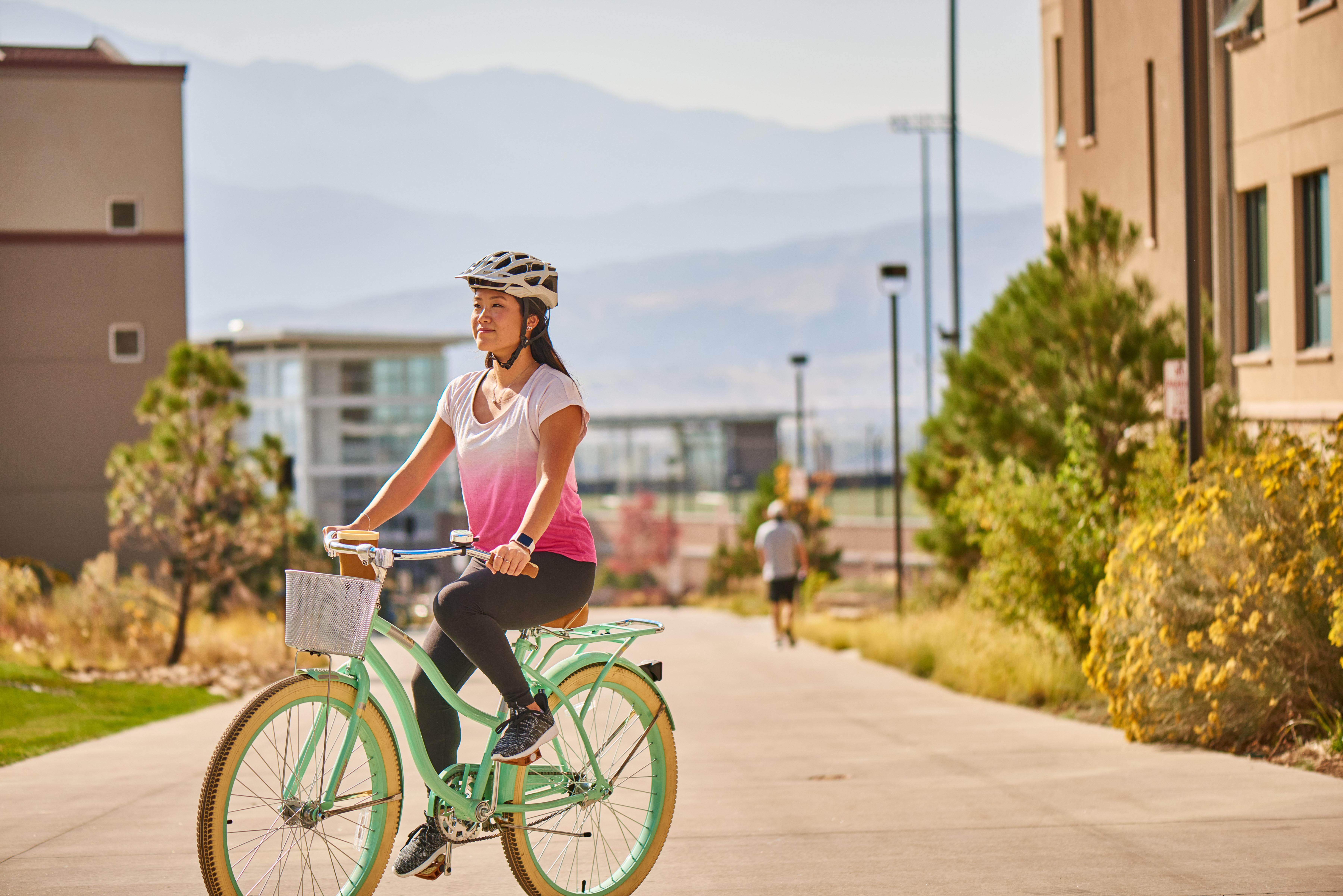 For the second time in a row, UCCS has been ranked among the most bicycle-friendly universities in the nation, according to The League of American Bicyclists.
The League of American Bicyclists, the premier grassroots advocacy organization encouraging better bicycling and protecting the rights of people who bike, has honored UCCS with a silver-level Bicycle Friendly University award in recognition of the university's achievements in promoting and enabling safe, accessible bicycling on campus.
UCCS retained a silver award in an overall review of the "Five E's" — engineering, encouragement, education, enforcement and evaluation. The silver awards represent the university's stronger investment in cycling amenities since the 2014–18 cycle, when UCCS earned a bronze award.
"On many campuses, bikes are simply another way to get around. But at Bicycle Friendly Universities, like UCCS, students, faculty and staff are encouraged to think beyond the utility of bikes as transportation, truly valuing their ability to foster a healthier, more connected campus life," said Bill Nesper, executive director of the League of American Bicyclists. "Even in the midst of a pandemic that left many no choice but to transition online, these universities are not only making it safer and easier for people to get around their campus by bike but finding ways to keep campus bike culture alive and well."
The Bicycle Friendly University program now includes 222 colleges and universities in 47 states and the District of Columbia, and is part of the League's Bicycle Friendly America program, which also awards communities and businesses with certifications as part of its mission to make bicycling safe, comfortable and more accessible for all. The City of Colorado Springs has maintained a Bicycle Friendly Community silver award since 2017.
"Our campus benefits from a very active Bicycle Advocacy Committee," said Kimberly Reeves, Interim Director of Sustainability and Chair of the Bicycle Advocacy Committee, known as the BAC. "I have such gratitude for these dedicated faculty, staff and students who volunteer their time to advocate for safer infrastructure, support educational opportunities, and provide encouragement for their peers. UCCS has retained silver with the ongoing work of BAC members and our student employees serving in the Sustainable Transportation role."
Seven ways UCCS encourages bicycling to and around campus
UCCS encourages bicycling as an active-commuting transportation option and provides amenities such as:
The Pedal Perks bike incentive program, where each participant receives an RFID tag for the university's bike counters, "welcome swag" and the chance to win a monthly prize drawing.
Free access to the Campus Recreation Center showers for all Pedal Perks members.
Rentable bike lockers.
A free borrow a bike lock program through the Kraemer Family Library Circulation Desk.
Directions and interactive maps to find the best route to campus.
Multiple bike repair facilities, including the at S.O.L.E. Center, outside of the Gallogly Recreation and Wellness Center and outside of the Kraemer Family Library.
Perks for riding a bicycle to and around campus through the PIPs Program.
Learn how to sign up for Pedal Perks on the UCCS Office of Sustainability website.
As UCCS continues to improve its campus accessibility by bike, the university will have access to a variety of free tools, a library of resources, and technical assistance from the League to become even more welcoming to people who bike.
"Our campus may have a few geographical barriers that other colleges and universities don't have to contend with, but we know when colleges and universities invest in the comfort and safety of people bicycling, great things happen: decreased carbon footprint, reduced healthcare costs, and a stronger sense of place to our campus community and broader Pikes Peak Region," Reeves said.
Those interested in joining the monthly Bicycle Advocacy Committee are encouraged to email Kimberly Reeves. Learn more about the committee online.
About the Office of Sustainability at UCCS
The Office of Sustainability creates opportunities for UCCS and Colorado Springs community members to engage in equitable, environmental and economical sustainability practices through their studies, work, extracurricular activities and everyday actions. Based in the Sustainability Demonstration House on the UCCS campus, the office coordinates and encourages sustainability efforts for every member of the campus community. Learn how you can engage with sustainability on the UCCS Office of Sustainability website.