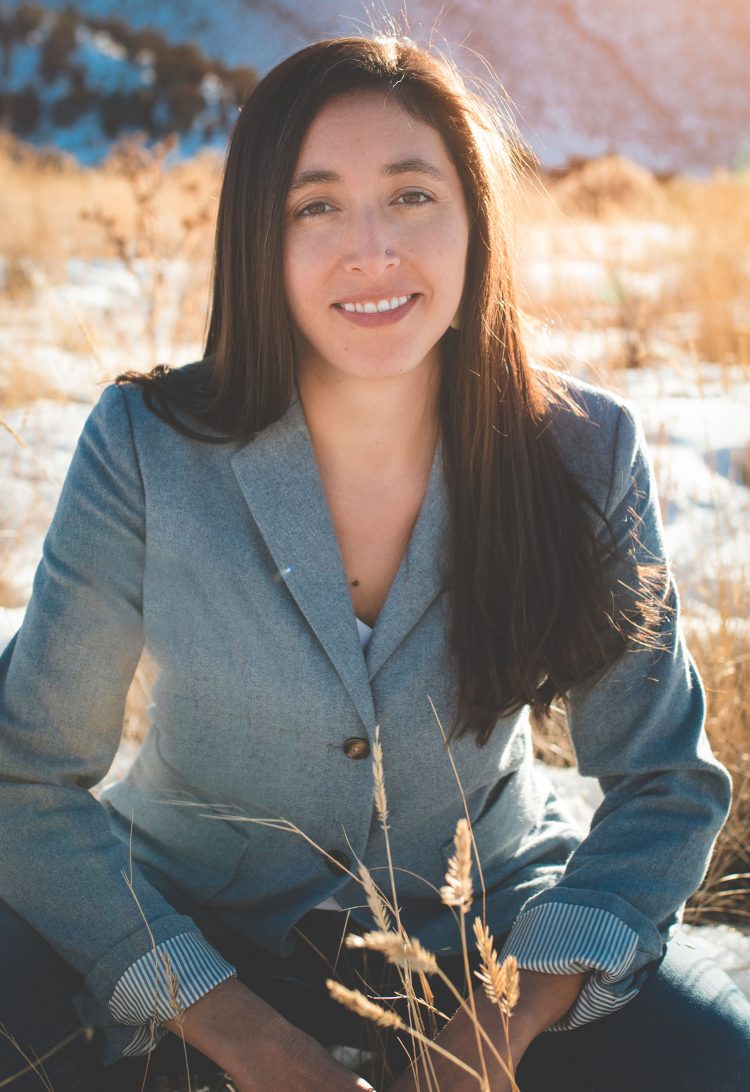 In the education world, leadership is often associated with the top-down aspirations of administration. But for Glenwood Springs Middle School science teacher Autumn Rivera, leadership is found in the everyday interactions of the classroom. Her approach to teaching, one that emphasizes fun and personal growth, earned the UCCS alum 2022 Colorado Teacher of the Year. Now, as Rivera is one of four finalists for National Teacher of the Year, she hopes to inspire other teachers to lead in their own way.
On her relationship with students
Rivera started her journey to education at Colorado College, where she studied biology and teaching. During her training, she was assigned to observe a classroom at a middle school. When she was growing up, she had always envisioned teaching elementary students, so she was surprised at what she discovered when she arrived at the school.
"Right when I walked in the doors," Rivera said, "I realized that middle schoolers were my people. They're funny. They're awkward. They're quirky, and they're just fun."
Rivera's connection to the quirky and fun is reflected in her sense of humor. She speaks of a moment early in her teaching career when she realized the effect she was having on the students.
"I remember vividly walking around and teaching in a classroom and thinking, "Oh my gosh, I'm really doing this. The kids are listening to me. They could take over at any moment.""
She's managed to not only keep control of the classroom, but lead for 17 years, including seven in Colorado Springs and ten in Glenwood Springs. Her credibility in the classroom comes from her subject matter expertise, but more than that, it's the product of a mutual respect that her students can feel. It's a genuine celebration of their eccentricities and an investment in their development as students and human beings.
"The best part of my job is hanging out with the students. Seeing students come back year after year, whether it's running into them at the grocery store or seeing them be successful on Facebook, I'm so honored and proud to be a part of that experience and help them develop into who they are today. It's such a huge achievement, and I love it."
On the UCCS Education Leadership Program
In 2015 Rivera earned a master's degree in Education Leadership at UCCS. For many in education, an advanced degree is another step on the way to a role in administration. But through her work in the program at UCCS, she found the support she was looking for to become a "teacher leader."
"That's where I found my passion," Rivera said. "And the program helped me discover that and supported me in that process, and that's something that I'm grateful for because so many times, people are pushed into the administrative world. And that's not where I wanted to be at the time. I wanted to still be in the classroom and still be a leader."
She also found value in the practical experience of her professors and the network of professionals in the program.
"They had done a cohort here on the Western Slope, so that was awesome to have a group of teachers I could build connections with while going to a program on the Front Range. The professors were really supportive and were able to provide real-life experiences. It was helpful being taught by professors who were living that educational experience."
On winning Colorado Teacher of the Year
In October 2021, the Colorado Education Association announced Rivera as the winner of the 2022 Colorado Teacher of the Year. The award automatically entered Rivera into the national contest, and in January 2022, Rivera was named one of four finalists.
"Even to be nominated for Teacher of the Year is a really huge deal," Rivera said. "And every time I move up the next rung, from finalist in Colorado, to winning, to being a national finalist, it's just such a huge honor. There are so many amazing educators in Colorado and in our nation, so to be recognized among them is incredible."
As a state winner and national finalist, Rivera will be honored at a White House ceremony and receive a trip to NASA Space Camp. She will also serve as a professional development leader for teachers across the state of Colorado.
"This award is going to open a whole new set of doors that I never realized could be open, and I'm excited for what's to come. I look forward to advocating for teachers around Colorado and beyond. Educators are working harder than ever right now, and I think their stories need to be shared, and I'm excited to be one of the people who gets to do that."
Rivera is used to leading outside of the classroom. She serves on multiple committees in the Roaring Fork School District while also coaching track and field, in addition to her role as adjunct professor at Colorado Mountain College. Still, her passion remains in the middle school classroom.
"I'm not ready to get out of the classroom any time soon. I, fortunately or unfortunately," she said with a laugh, "love those middle schoolers too much, and I'm having too much fun with them."
The winner of the National Teacher of the Year will be announced this spring.