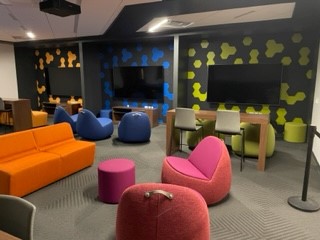 On Tuesday, March 8, a grand opening will showcase the updated game room in University Center and reveal the name of the room from more than 440 entries submitted in a naming contest open to students. 
The new game room includes multiple gaming consoles, billiards, tabletop games and card games. It will feature an Xbox One, PlayStation 4, Nintendo Switch and a Classic Super Nintendo with over 25 games to play and the option to bring your own games to play. Other popular gaming options include Magic the Gathering, chess, What Do You Meme and Dungeons and Dragons. In all, the game room will offer 75 games for students to play.
Katelyn Mansker, Assistant Director University Center and Event Production, is excited about the potential of the game room.
"Our goal here at the University Center is to provide a central hub for students to engage with each other and build connections. We believe there is something for everyone to enjoy, and hope this builds a sense of connection and belonging for students as they meet and game with other students," Mansker said.
The University Center previously had a game room, but is now able to offer a more modern experience complete with new games and better technology.
"We were able to enhance the game room to include billiards, but go beyond and also include multiple TVs for console gaming as well," Mansker said.
The updated game room comes as esports have risen in popularity.
"We are looking to link up with the esports team here at UCCS, The Colorado Frost," Mansker said. "The game room was created with esports in mind, as we have a connection between one of our conference rooms and the game room, so that we can have multiple teams compete and then screen the games in the game room on a projector for people to watch."
The grand opening on Tuesday begins at 2 p.m., and free play and competition gaming will be open throughout the afternoon and evening. The game room will be open seven days a week. Monday through Friday, it will be open from 11 a.m. to 10 p.m. On Saturdays, it will be open from 11 a.m. to 8 p.m., and on Sundays, 2 p.m. to 10 p.m.
Students can check into the game room with their LionOne Card and are welcome to bring guests to accompany them.