If someone asked you to describe the history of social policies in America, could you do it — concisely?
That was the challenge Barry Koch, Adjunct Professor of Social Work at UCCS, set himself when he sat down to compile "The Concise History of American Social Policy" – his tongue-in-cheek name for a 1,500+ page reference work that traces the history of American social policy from the Revolutionary War to the present.
The volume may not be short, but Koch took pains to make it accessible and understandable to many audiences. It includes 27 chapters, each covering an issue or population — from healthcare and immigration to the environment — and a narrative account of how the issue emerged in history, how it evolved in time and how the United States has tried to address the issue's challenges in policy form. The work also covers 10 social policy histories that are specific to populations-at-risk, including African Americans, women and veterans.
One of the main features of the encyclopedia, Koch says, is storytelling.
"One goal of this work was to make the sometimes confusing language of social policy — such as the language of a formal Act of Congress or Supreme Court case — more accessible and more understandable to students, and to place it all into the context of the major events of American history," Koch said. "I was inspired to do this by students who seemed to struggle with social policy. After I started bringing in the story of each issue in this format, they seemed to engage with the material much better."
Koch was also adamant that the volume be made available in an open access format so that it can be used widely as an educational tool.
Originally proposed to Oxford University Press as an encyclopedia, the first five chapters of "The Concise History of American Social Policy" are now published to their online Ancillary Resource Center platform. Readers can click on a date, period of time, presidential administration, policy issue or population-at-risk and be taken immediately to that material. Included in each policy discussed are the most influential Acts of Congress, Supreme Court cases, major social events and organizations established in each area.
Koch will present on "The Concise History of American Social Policy" at an author salon event at the Heller Center on Apr. 29, 2022 from 5–7 p.m. Learn more about the author event on the Heller Center website.
Koch also answered seven questions on the volume below.
1. If you were describing your book to someone outside of your field, what would you say?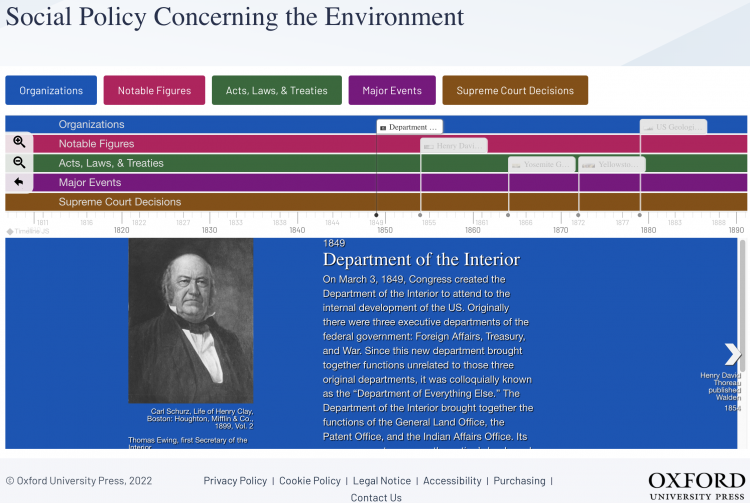 The work is titled "The Concise History of American Social Policy" because it strives to be "concise," it covers the "history" of each area, and it is limited to the United States of "America." The word "concise" in the title captures the primary intent of this work: to provide for readers brief and concise descriptions of a large number of legislations, court decisions and events. Essentially, its purpose is to cut through lengthy and complicated descriptions, such as the formal and complicated language of an Act of Congress, in order to provide to readers what I believe they most want to know.
I think this work is a unique American history, focused on how our policies emerged and how they evolved over time. One more strength of this work is its narrative utility. I have observed that telling the story of each issue or population-at-risk increases the engagement of my students in the world of social policy. Stories make it all come alive.
2. How did you get the idea for your project?
While teaching a social policy class in a Master of Social Work program, I created a tool that I thought would help students engage with social policy in a way that was more accessible and less boring (for them). The tool was a chart that included Acts of Congress and Supreme Court cases related to a particular issue, listed in time order.
The students seemed to engage better using this approach than any other I had tried, even contributing to the charted legislations. We discussed social events that had preceded the legislations, and those too were added to the chart. The creation of organizations were then also added to the chart. Before long, we had together assembled a complete recent history of the issue in question. I chose then to extend the history all the way back to the origins of the country. Since this approach to that one issue was so successful in engaging students, I created a separate chart for each issue. It was a student who eventually suggested to me that the charts were getting to be too big, saying "You should make this into a book."
3. Did your focus develop or change throughout the research and writing process?
Its original purpose was to engage students. When I started the work, it became clear quickly that one cannot really understand American social policy unless you include the impact that each war had on the US. You cannot, for example, understand all the changes that took place in the 60's unless you include the backdrop of the Vietnam War.
Students' responses to the project contributed ideas and fueled its evolution. Eventually, it was students themselves who suggested the idea to expand it, and to make it into a book-length project.
Thanks to them, the structure of the project includes built-in overlaps and interconnections, making it easy for users to find what they are looking for, in a concise language that makes sense to them. For example, an Act of Congress may be relevant to two or more separate social policy issues or populations-at-risk at the same time, and users will find that concise paragraph description in all places where it is relevant. The goal of this approach is to make the sometimes challenging area of social policy more accessible to users, and to present the fullest context possible for each individual concise paragraph description by showing all the areas to which it is relevant.
4. Which idea do you write about that most excites, invigorates or inspires you?
All of the issues and populations that are written about are interesting to me, and I think they were to students too when they saw these issues in their historical and evolutionary context. The aspects of the work that I found especially interesting were the impact of social events on the creation of social policies, and how U.S. social policy is almost always reactive as opposed to proactive. (For example, the assassinations of the 60's led to gun control legislations; 9/11 led to the creation of the Department of Homeland Security, etc.)
5. Describe your writing space. Where do you do your best work? What time of day? Do you have any writing routines you are willing to share?
I have a home office. I write at all times of day, sometimes late into the night (this is perhaps when I do my best work, when all is quiet). I write best when I am not distracted, so I am unable to write if I am preoccupied with the needs of my kids or my dogs.
6. Is there a favorite quote or passage you want to showcase from the book?
There are over 2,000 individual items included in this work. No one item stands out more than another, but I was especially interested in researching and learning about the items related to the earliest days of the United States in the late 1700s. The difference between how we looked at the various issues in the 1700s and how we look at those same issues 250 years later is fascinating.
7. What new questions for future exploration have you discovered?
None at this time.
UCCS celebrates faculty and staff who author and edit books each year. In recognition of their achievement, and as part of the UCCS Author Spotlight initiative, authors are invited to submit details on their published works.