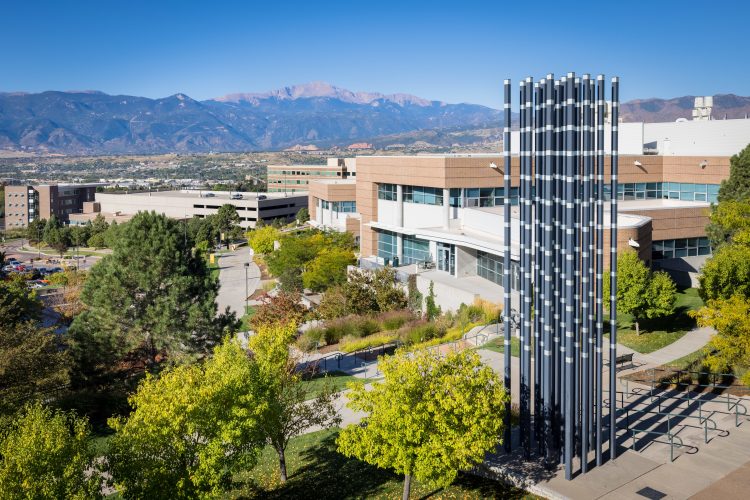 You've probably heard Chancellor Venkat Reddy or Senior Vice Chancellor Martin Wood talking about cybersecurity as a priority at UCCS, but how is the university making it happen? Here's some history.
In 2020, the UCCS Cybersecurity Programs Office (CPO) was established to identify and drive cybersecurity initiatives in collaboration with others across the UCCS campus, including in areas such as cybersecurity research, community outreach and education in K-12, workforce development, and industry and non-profit partnerships.
While cybersecurity had already been a priority at UCCS with cybersecurity degrees, research, and resources available through the College of Engineering and Applied Science (EAS), in the last 2 years the CPO was established to help build on the academic resources to grow cybersecurity efforts across the campus. The CPO has taken shape under the direction of Gretchen Bliss, Director of Cybersecurity Programs. Gretchen came to UCCS in 2020 after a 25-year career in Intelligence as a Russian linguist and cybersecurity analyst and several years at Pikes Peak Community College, where she spearheaded their cybersecurity programs.
Strategic direction under the POWER Pillars
Soon the Cybersecurity "POWER" Strategy was born with a stated goal to generate internal and external support, leading to sustainable UCCS cybersecurity initiatives that promote diversity, equity and inclusion.
That translated to POWER pillars, which guide actionable efforts in five key areas across campus:
Partnerships
Outreach
Workforce Development
Education
Research
The POWER Strategy was informed by existing cybersecurity resources on campus. The College of EAS established a faculty chair in 2016, thanks in part to funding from The Gallogly Family Foundation. The Gallogly Endowed Chair in Cybersecurity focuses on leading edge research in cybersecurity and works closely with other colleges, universities, and industry, enabling future cybersecurity initiatives that strengthen the impact of cybersecurity research at UCCS, in partnership with the Cybersecurity Programs Office.
Dr. Shouhuai Xu joined UCCS from the University of Texas at San Antonio as Computer Science Faculty, taking on the position of Gallogly Chair, driving research and education initiatives forward. Along with other cybersecurity initiatives, this position has been instrumental in enabling new partnerships internally and externally to UCCS.
National accreditation by the NSA
Bliss and Xu, who joined UCCS within a year of one another, were able to hit the ground running, thanks to an existing UCCS designation from the US National Security Agency (NSA). UCCS is a certified Center of Academic Excellence for Cyber Defense (CAE-CD), as awarded in 2014 by the NSA. The CAE-CD designation puts UCCS in company with about 370 higher education institutions across the nation as having rigorously accredited cybersecurity academic programs, as well as resources and activities that drive education and community awareness and interest, all in the name of national security.
UCCS is in the process of seeking renewal for its NSA CAE-CD accreditation, which should be in place before the year is out. The 5-year CAE-CD accreditation is based on the College of EAS Master of Science in Computer Science degree with an emphasis in cybersecurity. The designation carries with it a strong community of colleges and universities who share resources, ideas, curriculum, student cybersecurity events, and other programs to build cybersecurity as a discipline and career choice for Americans. In fact, UCCS was awarded a grant to lead the CAE Northwest Hub, a region spanning 10 states and including 38 member colleges and universities, further cementing both our national and regional leadership in cybersecurity. The UCCS College of Business also received an NSA faculty development grant to develop cybersecurity faculty at CAE institutions across the nation.
Local collaborations reach a national scale
UCCS has initiated and manages a regional cybersecurity organization, the Mountain West Cyber Consortium (MWCC). Thanks to funding from the state of Colorado Senate Bill 18-086, and in partnership with Joe Murdock, Instructor of Information Systems at CU Denver, UCCS has established the MWCC to bring together the cybersecurity programs of 26 colleges and universities across eight states in the Mountain West. These schools collaborate on research projects, workforce development, and education initiatives, sharing ideas and resources and building cybersecurity programs and competitions to aid student experience. These efforts support MWCC's goal to build a strong and well-educated cybersecurity workforce while establishing the Mountain West as a preeminent region for cybersecurity.
In addition to building the cybersecurity discipline across the Mountain West region, the UCCS Cybersecurity Programs Office is responsible for building partnerships in the Colorado Springs community — many of which have an effect on a national scale.
Housed in UCCS' Kevin W. O'Neil Cybersecurity Education and Research Center, part of the UCCS cybersecurity facility, are two such partners: the National Cybersecurity Center (NCC) and Space Information Sharing and Analysis Center (Space ISAC). UCCS works with these well regarded national organizations to bring cybersecurity training camps to high school and middle school teachers and students, and co-hosts community events and speaker panels like the Women in Cybersecurity Fireside Chat Series held in February, March, and April of 2022.
UCCS also partners with its fellow CU campuses to build strong student-led cybersecurity clubs and to host events. In February, three CU campuses — UCCS, CU Boulder and CU Denver — collaborated to host Mandiant, a regional security company and strong UCCS partner, to share insights on the recent SolarWinds cybersecurity attack. Co-hosted by UCCS and the U.S. Air Force Academy, the event garnered attendance from all three CU campuses, US Air Force Academy Cadets, Pikes Peak Community College students, and partners at the NSA.
Securing long-term funding for the future
The Cybersecurity Programs Office is now staffed with a full-time Grants Manager, Kiti Hall. Focused on securing long-term cybersecurity funding, Hall works with the Office of Sponsored Programs and Research Integrity, as well as faculty, staff and students across UCCS.
Over the past two years, the office has secured a variety of grants to help fund education and programs for students in K–12, including week-long summer camps to introduce cybersecurity to middle and high school students. In order to seed K-12 students with a continued interest in cybersecurity, not to mention knowledge and understanding, however, it is critical to train teachers. A recent GenCyber award, funded by the NSA and the National Science Foundation, will enable UCCS to host week-long cybersecurity teacher training camps at the UCCS campus in summer 2022, training more than 30 teachers across the state of Colorado in cybersecurity. Other K-12 activities include the UCCS partnership with Colorado Springs' Cool Science initiative to host the Cool Science Festival, a day long demonstration of all there is to excite the curiosity of children in science and technology.
UCCS wouldn't have a successful cybersecurity initiative without strong support for UCCS students. The CPO has worked with a variety of UCCS students to help grow two cybersecurity clubs on campus: Women in Cybersecurity and Mountain Lions Cyber. Both provide leadership opportunities and build teams to participate in cybersecurity competitions such as the National Collegiate Cyber Defense Competition, C2Games, and other skill-building events. In addition to cybersecurity career fairs hosted by the College of Engineering and Applied Science, CPO also hosts career panels every semester at the UCCS Career Center with local, regional, and national industry partners. The CPO works with those partners to build an understanding among the UCCS student body of cybersecurity careers available in the community.
Another opportunity for UCCS students is the Colorado Cybersecurity Apprenticeship Program (C-CAP), created and managed by the College of Business. Students looking to get hands-on experience in cybersecurity with local and regional employers, paving the way to full-time employment, are taking advantage of this new UCCS program, and it is paying dividends. C-CAP now has over 150 students enrolled in cybersecurity training. The university looks forward to assisting employers to fill their cybersecurity roles with a highly skilled cybersecurity workforce made up of veterans, military spouses, and underrepresented and minoritized populations.
UCCS leading the way forward
Putting cybersecurity on the map means starting young (K-12) and working broadly all the way through the education and employment supply chain, thanks to many key partnerships in these areas. Given that there are almost 500,000 open jobs today in the US for cybersecurity and that our nation faces strongly increasing online threats, it is critical that UCCS play a leading role in building cybersecurity opportunities across our campus, community, and region.
While this article only scratches the surface of the cybersecurity initiatives now in the works at UCCS, it gives an idea of the collaboration and partnership the university is building to drive interest and engagement – not to mention education and employment opportunities – for UCCS and our students. This work could not be done without the Colorado Springs cybersecurity ecosystem and the partnerships across industry, government, and education, both locally and nationally.
This story is part of a monthly series featuring Cybersecurity Programs at the University of Colorado Colorado Springs. Read more about cybersecurity at UCCS.