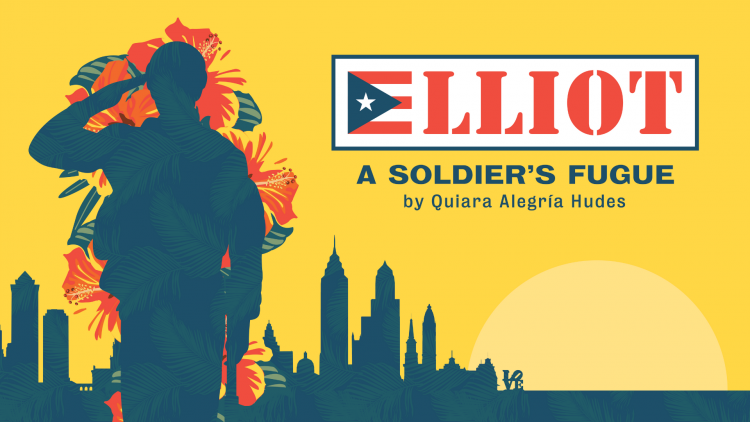 Just the Facts:
"Elliot, A Soldier's Fugue" runs at the Ent Center for the Arts at UCCS on Thursdays (7:30 pm.), Fridays (7:30 p.m.), Saturdays (2 p.m., 7:30 p.m.), and Sundays (4 p.m.) from Jan. 27–Feb. 13, 2022. Find tickets online.
About "Elliot, A Soldier's Fugue"
"I'm a Marine. Who are you?"
Less than five minutes into Theatreworks' production of "Elliot, A Soldier's Fugue," the title character squares off with an invisible mirror — but despite his assertion, Elliot is not just a Marine. He is a Puerto Rican American, a third-generation combat veteran, a native Philadelphian, an 18-year-old with a wounded leg and a decision to make. Home with his family following a tour in Iraq, Elliot weighs inheritance, duty, love and legacy as he debates whether to re-enlist for a second tour.
Pulitzer Prize winner Quiara Alegría Hudes, book author of "In The Heights," wrote the play after hours of in-depth interviews with her own Puerto Rican military family, and the result is a poignant image of the often invisible costs of war. Tracking the family members' deployments in Korea, Vietnam and Iraq, the play also explores the history of service and the bonds forged across generations, through the stories they share and the ones they can't.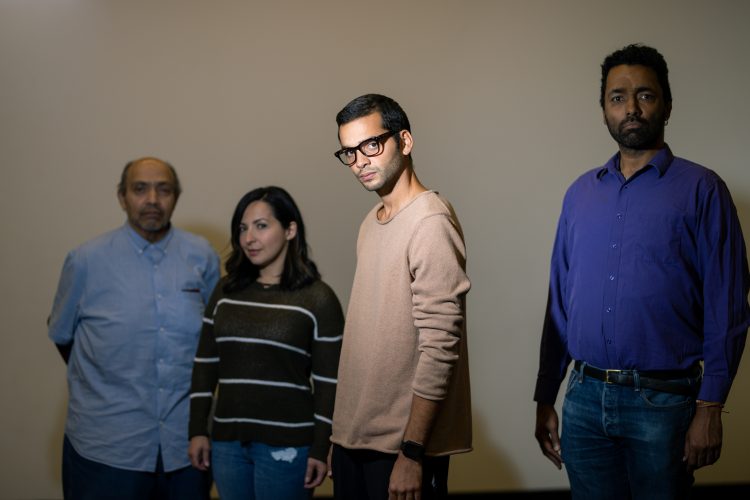 Theatreworks' production leans into the many experiences represented in the script. The cast and creative team features largely artists of the Latin community, including Puerto Rican actor Luis Sebastián Borges, who leads the cast as Elliot. A.B. Lugo (Pop), Angelo Mendez (Grandpop) and Chelley Canales (Ginny) round out the rest of the Ortiz family. Director Julio Agustin is thrilled to work with the design team (Frank Oliva, Carlos Flores, Alexandra Vásquez Dheming, Anne Toewe, and Marie Verdu) to create an immersive theatrical experience, integrating Puerto Rican culture and other sensory elements of the play.
As Agustin puts it, "[This story] is meant to be seen and heard, but also smelled, felt and even tasted. I hope to be able to provide audiences with the opportunity to immerse themselves fully in the evening's event of food, music, movement and story."
The production also offers many opportunities for the local community to connect with the military stories represented in the play. In addition to military consultants during the rehearsal process, Theatreworks has partnered with Max Shulman and the HomeFront Theatre Project to coordinate audience engagement with veterans and service members to contextualize the play and open a broader dialogue about the experiences of veterans and their families. The Veteran's Health and Trauma team at UCCS' Lyda Hill Institute for Human Resilience have also provided speakers and conversations leaders for the production. A full roster of scheduled chats and speakers can be found on the Theatreworks website.
In Colorado Springs, a community filled with military experiences as well as Latin American heritage, "Elliot, A Soldier's Fugue" offers at once a familiar and revelatory look at the legacies that form the fabric of the Pikes Peak region. In Agustin's words, "As the son of Puerto Rican immigrants and the child of a Vietnam veteran, there are many moments in the piece that resonate with me on a visceral level — most of all, honoring those who came before us and seeking to understand the 'why' behind their life's decisions. [But] what the audience is meant to take away is quite individual, and something I look forward to learning from them."
Purchase tickets
Tickets to "Elliot, a Soldier's Fugue" may be purchased online at entcenterforthearts.org or by phone at 719-255-8181. Performances begin Thursday, Jan. 27, 2022 and continue through Sunday, Feb. 13. Tickets start at $21. The Ent Center offers a standard military discount of 10% on all productions. UCCS students always receive free admission.
Seating is set up in socially distanced pods of two; if you require an odd number of seats (one, three, five, etc.), please contact the Box Office via [email protected] or 719-255-8181 for assistance.