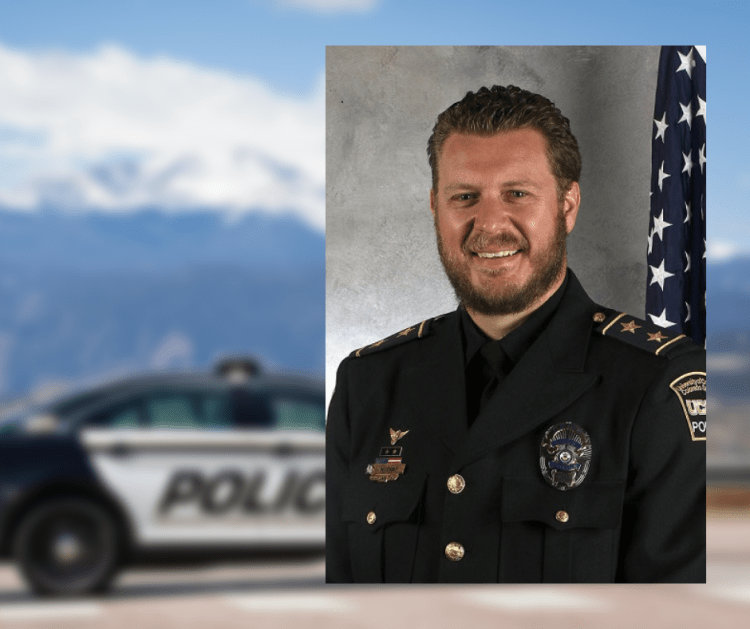 After nearly two decades at UCCS, Chief of Police and Executive Director of Public Safety Marc Pino is ready to keep a new university safe.
Pino, who grew up in Colorado Springs, started at UCCS as a student in the fall of 2002 as part of the Chancellor's Leadership Class scholarship program. In 2004, he got a job as a student police intern in the Department of Public Safety. He excelled and went on to the El Paso County Sheriff's Office Academy in 2005 to become a certified police officer.
"Service has always been important in my family," said Pino, whose father was in the Air Force and grandfather served in WWII. "I knew I wanted to be in the service in some capacity. After 9/11 happened my senior year, I decided to get my degree, then join the military as an officer."
However, during his time in school volunteering with a local police department, Pino started to think that police work more aligned with his future goals — and family.
"Being a military kid, I wanted to not move my kids around, so I started really getting into the idea of getting into the police service as my way of serving the community," he said.
Pino continued his student employment in the Department of Public Safety through 2006, when he became a permanent staff member, joining the ranks as a police officer. Pino was promoted to sergeant in 2010, lieutenant in 2014 and interim chief in 2016 — a position that became permanent when Pino accepted the Chief of Police role in 2017.
"One of the reasons I always stayed at UCCS was the fact that the people here have always been supportive, collaborative, and wanted to see you succeed," Pino said. "There were multiple people at this institution who saw something in me and helped me get to where I am today."
Pino has maintained a commitment to education throughout his career, graduating in 2008 with a bachelor's degree in Communication, and again in 2017 with his Masters of Public Administration. He also graduated from the 274th Session of the FBI National Academy in 2018, where he studied intelligence theory, terrorism, management science, law, behavioral science, law enforcement communication and forensic science.
Pino also completed a 120-hour training to earn the title of Northwestern University Center for Public Safety Police Motorcycle Instructor in 2012, and received the Garrett Swasey Outstanding Staff Award in 2016, in recognition for going above and beyond the call of duty.
During his tenure at UCCS, Pino responded to both the Black Forest and Waldo Canyon fires, assisted with Barack Obama's visit in 2008, and supervised when Donald Trump visited as a candidate in 2016. Pino described the chance to work with federal agencies like the Secret Service and the FBI as "a really neat opportunity."
As a sergeant, Pino instituted the body camera program at UCCS and has overseen it since, recently receiving a Department of Justice grant to upgrade that equipment. Pino also played a part in implementing the motorcycle police officer program, as well as championing policy changes to allow officers to have visible tattoos and facial hair.
"I was surprised at how receptive to change people were for the department, even in those small things, like allowing facial hair and tattoos," Pino said. "We need to look like our community and, working on a college campus, we want to be reflective of that community, even though some of those changes are not accepted in other areas of the law enforcement community."
Pino also worked with local nonprofit Shield 616, which provided the UCCS police department with protective gear, and launched a new wellness policy in 2019 that allowed officers to work out during their shifts, up to three hours a week.
"Part of our job is being physically and mentally well," Pino said, "and I wanted our officers to be able to incorporate that into their workday."
During his employment, Pino also went through the loss of three employees — Craig Highline in 2008 to a DUI driver, Garrett Swasey in 2015 while he was responding to the Planned Parenthood active shooter incident, and Larry Darnell, who the department lost to cancer in 2018.
"We're a small department, and losing three people during that time was definitely pretty tough," said Pino. "Those were some of the hardest times we went through."
Pino said he would miss the people he's worked with and the collaborative nature of the campus.
"Everybody on the campus is working toward the same goal, the same mission, trying to graduate our students and provide a good educational experience for them," he said. "This campus has always been willing to find solutions with you, so knowing that if I have a problem, I can call someone and have that conversation, that's definitely something I'm going to miss."
Pino is headed to Idaho State University to be their Chief Public Safety Officer.