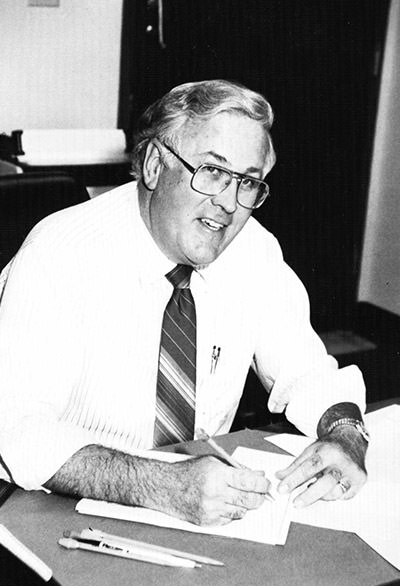 Jack E. Sherman, 86, passed away after a brief hospitalization on Nov. 24, 2021.
According to his obituary, published recently in the Gazette, he was born in Baraboo, Wisconsin, and was a 53-year resident of Colorado Springs.
Described as "an educator through and through," Jack came to the University of Colorado Colorado Springs in 1968 because he wanted to be a part of the development of a new university, a once-in-a-lifetime opportunity.

While at UCCS, he moved quickly through the academic ranks and was promoted to professor in six years. Jack served in many administrative positions during his 32 years at UCCS: professor in-charge, Associate Dean of Education, Dean of Education, Vice-Chancellor of Academic Affairs (twice), and Acting Chancellor and Director of Teacher Education. He also served as Vice President and President of the UCCS faculty senate. He was awarded the professor emeritus rank in 2000.
While earning his bachelor's degree, Jack didn't have the financial resources to buy food, so every Sunday afternoon, he visited Louise, his future wife, at her house and filled a shoebox with sandwiches, and his future mother-in-law would bake him a pie. With a hot plate, old coffee pot, and cans of soup, he'd be set for the whole week at school.
Jack's early financial hardships laid the scaffolding for what would become a legend of generosity. Remembering these days, Jack would often say how he'd like any remembrance for him to go towards scholarships at UCCS, where financial need is a determining factor. In lieu of flowers, those wishing to honor him, please consider donating to the UCCS Reach Your Peak Scholarship in memory of Jack Sherman.
He is survived by his wife of 64 years, Louise, son Steven and daughter Pamela, and his brother Richard. Jack was the proud grandfather of Tia, Lindsay, Mariah, Catherine, Savannah, and Rylee and great-grandfather to J.P., Lilah, and Lorelai. He is also survived by his constant dog companion, Dexter.
Service will tentatively be held at Sunrise Methodist Church (2655 Briargate Blvd) on Jan. 29, 2022 at 3 p.m. Please call the church at (719) 598-7013 to confirm the day and time closer to the service.
Read the full obituary here.