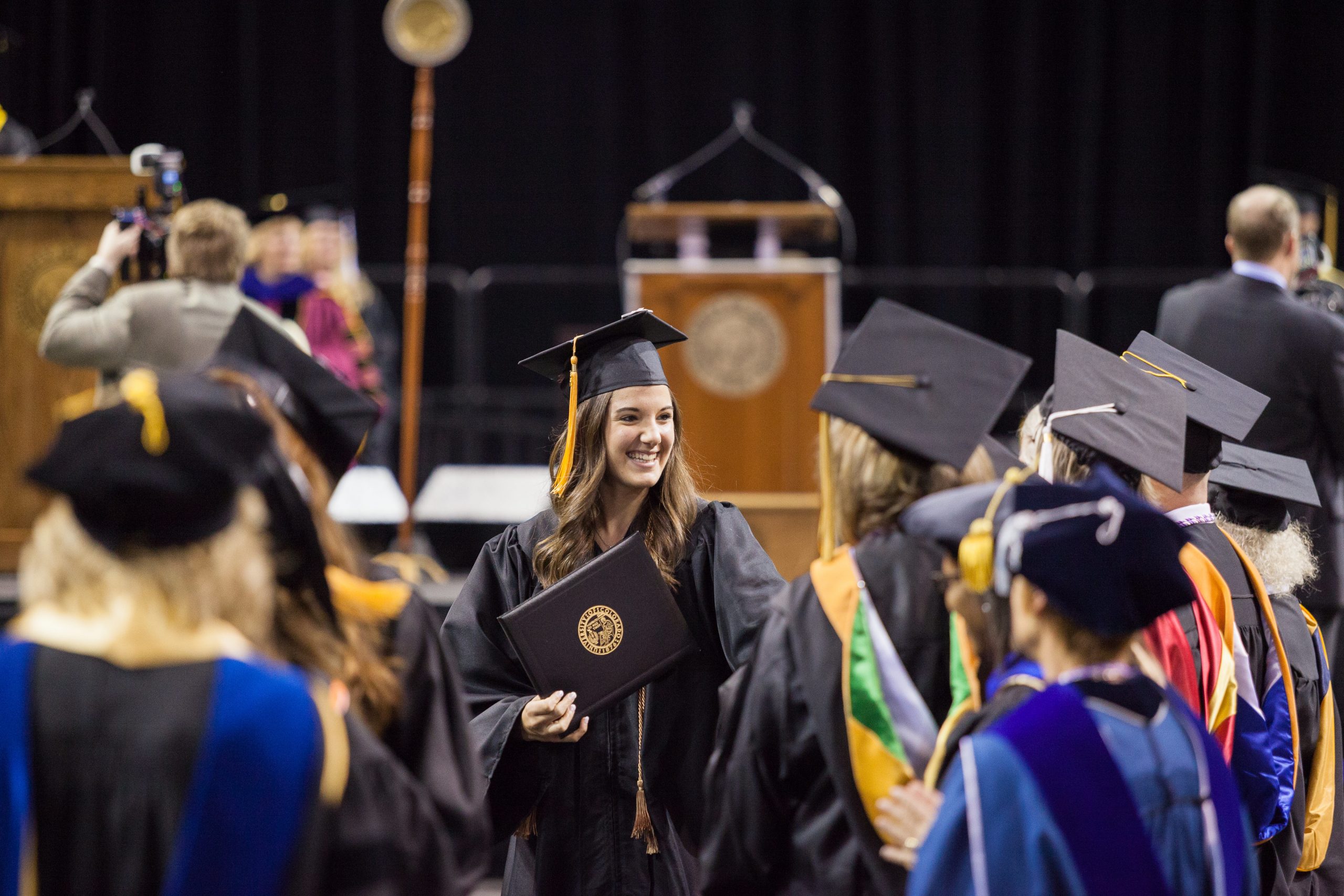 UCCS students, faculty and staff will celebrate degrees conferred to more than 1,000 graduates at the fall 2021 UCCS Commencement ceremony on Friday, Dec. 17 at 2 p.m.
For the first time since fall 2019, UCCS will celebrate Commencement in person at the Broadmoor World Arena. Complete information on logistics for graduates and guests can be found at uccs.edu/commencement.
The ceremony is free and open to graduates and guests. Nearly 500 graduates have already registered to participate in the in-person ceremony.
Here's what you need to know before you go:
Timing
Commencement will begin at 2 p.m. on Friday, Dec. 17, 2021. Graduates are asked to arrive no later than 1:15 p.m. and to use the Penrose Club entrance of the Broadmoor World Arena. Doors open at 12:30 p.m. for guests. The ceremony is scheduled to end at approximately 4 p.m.
Face covering policy
All attendees — graduates, guests, faculty and staff — will be required to wear a face covering indoors while attending the ceremony. Graduates will be allowed to remove their masks when having photos taken. Those who do not comply with this requirement will be asked to leave the venue.
Vaccination recommendation
Attendees are strongly recommended to be vaccinated against COVID-19. Unvaccinated individuals should be tested for COVID-19 between 24-48 hours prior to the day of the event.
Anyone displaying any COVID-19 symptoms, as well as individuals in isolation or quarantine, should not attend the event. They may participate by watching Commencement via livestream.
Potential for a proof of vaccination or negative COVID-19 test requirement
On Nov. 14, 2021, the Colorado Department of Public Health and Environment published an amended public health order detailing coordination between the state and several Denver area counties to enact extra protocols to prevent super spreader events, including providing proof of vaccination for access to events.
Note: At this time El Paso County and the City of Colorado Springs are not included in the public health order. While UCCS has not changed the requirements to attend the Commencement event, all travelers from outside of the local area are encouraged to be prepared to show proof of vaccination or a negative COVID test dated within 72 hours of the event. Please check the UCCS Fall 2021 Commencement resource hub often to keep-up-to date with the latest event admission requirements.
Seating
Seats are available on a first-come, first-serve basis. No advance tickets are required at this time. Graduates are requested to consider bringing a limited number of guests, and guests should note the arena section they sit in. Should a positive COVID-19 case be reported, this will assist in contact tracing efforts. Finally, the Broadmoor World Arena does not allow individuals to hold more than four seats.
Handicapped seating is available on Row K, which runs the perimeter of the arena, and one folding chair is available for a guest to accompany each individual in a wheelchair. Sign language services are available at the base of section 107. Live captioning will be available from anywhere in the arena at uccs.io/cc. Data rates apply.
Security
Everyone – graduates and guests – is subject to security procedures as they enter the Broadmoor World Arena. The arena limits people to one clear plastic bag with dimensions of 12"x6"x12" or smaller, and one clutch with dimensions of 8.5"x2.5 "x5" or smaller. There is no storage for graduates in the Broadmoor World Arena, and graduates should expect to carry onto the floor anything they bring into the arena.
A complete list of Broadmoor World Arena policies and prohibited items is available online.
Traffic and directions
The Broadmoor World Arena is located at 3185 Venetucci Blvd. The suggested route is to take Exit 138 on Interstate 25, drive west on Lake Ave., and then south on Venetucci Blvd. Traffic is expected to be heavy before and after the ceremony. Guests are encouraged to allow extra time and carpool if possible. Parking is free in the Broadmoor World Arena lots.
Guests traveling from Denver should note that Interstate 25 between Castle Rock and Monument is being expanded. Allow extra time to navigate through the construction zone. Monitor speed conditions through the construction zone through the Colorado Department of Transportation.
Livestream
The ceremony will be broadcast live through YouTube and will be covered on the UCCS Facebook and Twitter accounts.
Graduates are urged to share the livestream viewing option to additional guests, especially those who are unvaccinated and/or immunocompromised, so they may watch the ceremony virtually.
Honor cords
Graduates receiving Latin honors (cum laude, magna cum laude and summa cum laude) will pick up those cords at the arena. If graduates are receiving additional cords or stoles (including those for the class gift, specific departments and offices, etc.), those are managed by those individual offices and graduates should contact that office for more information.
The Alumni Association offers a black and gold legacy cord for graduates with an immediate family member who is also a UCCS graduate. Students who donate at least $10 to the class gift will also receive a blue cord in recognition of their gift back to UCCS.
Alumni Association
Upon graduation, graduates will join more than 55,000 members of the UCCS alumni community. Enrollment in the UCCS Alumni and Friends Association is complimentary, and the office offers special events each year to keep alumni engaged with their alma mater.
Questions? Visit the UCCS Fall 2021 Commencement resource hub.