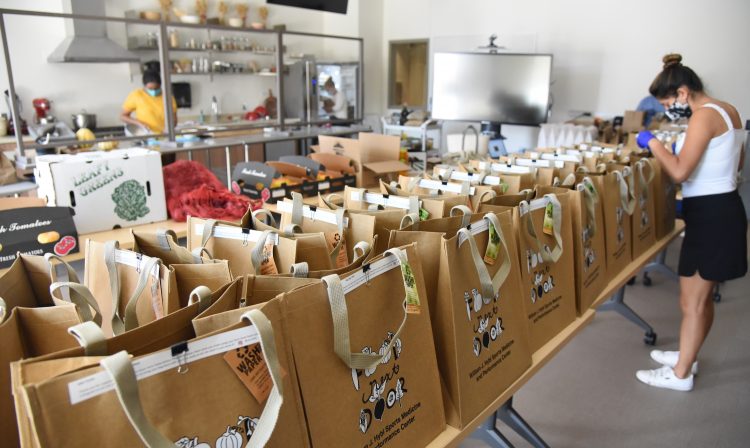 After earning a STARS Gold Sustainability Ranking for a third consecutive time this year, UCCS' sustainability initiatives are back in the spotlight.
This time, it's for the university's Food Next Door Farm Subscription Program, which brings fresh, local and ethical food to the plates of the UCCS community.
For $100 or less a month, subscribers to the program are able to pick up farm-fresh grocery packages each week, grown and produced by Southern Colorado's farmers and ranchers. The week's parcels include grain and flour, dried beans, seasonal fruits and vegetables, onions, herbs and one bunch of garlic per month. Subscribers can also purchase local cheeses, organic eggs and grass-fed, pasture-raised meat as add-ons to their packages.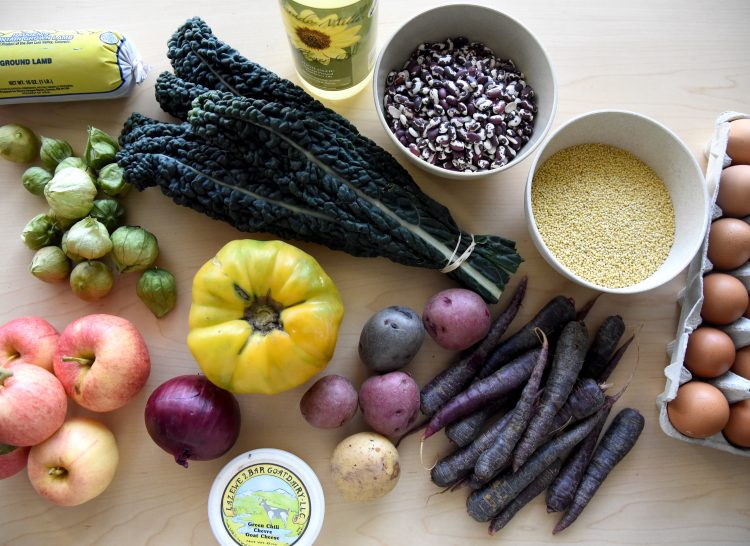 The program's key ingredient is its food literacy effort. Each week, subscribers gain access to online farm and food literacy talks, along with recipes designed around the week's seasonal offerings. In line with its focus on sustainability, subscribers carry away their weekly groceries in reusable bags, which the program washes and re-uses.
To help address student food insecurity exacerbated during the COVID-19 pandemic, participants also have the opportunity to help support a student. They can choose to pay a premium fee or even cover the full cost of a grocery subscription for a UCCS student.
The Food Next Door farm subscription program is UCCS Dining and Hospitality-funded and made possible thanks to the efforts of the Sustainability, Wellness and Learning (SWELL) initiative at UCCS. Students involved in SWELL pack each week's subscription boxes and help to distribute them on Fridays. The program receives additional funding from The Colorado Farm & Food Systems Respond & Rebuild Fund, offered through the Trailhead Institute, and the Daniels Fund Ethics Initiative Collegiate Program at UCCS College of Business.
The Association for the Advancement of Sustainability in Higher Education (AASHE), which grants annual Sustainability Tracking, Assessment & Rating System (STARS) reports, featured the UCCS Food Next Door program in its annual publication, the 2021 Sustainable Campus Index.
"Congratulations to UCCS for their incredible work in creating a more sustainable world," said AASHE's Executive Director Meghan Fay Zahniser. "Upon reading the innovative and high-impact sustainability initiatives within this report, I'm encouraged that the future we all need will soon be realized."
UCCS' full STARS report is publicly available on the STARS website.
About STARS
The Sustainability Tracking, Assessment & Rating System (STARS) is a transparent, self-reporting framework for colleges and universities to measure their sustainability performance. STARS was developed by AASHE with broad participation from the higher education community. The credits included in STARS span the breadth of higher education sustainability and are organized into four categories: Academics, Engagement, Operations, and Planning & Administration. All reports are publicly accessible on the STARS website. For more information, visit stars.aashe.org.
About AASHE
AASHE empowers higher education faculty, staff and students to be effective change agents and drivers of sustainability innovation. AASHE enables members to translate information into action by offering essential resources and professional development to a diverse, engaged community of sustainability leaders. We work with and for higher education to ensure that our world's future leaders are motivated and equipped to solve sustainability challenges. For more information, visit www.aashe.org.