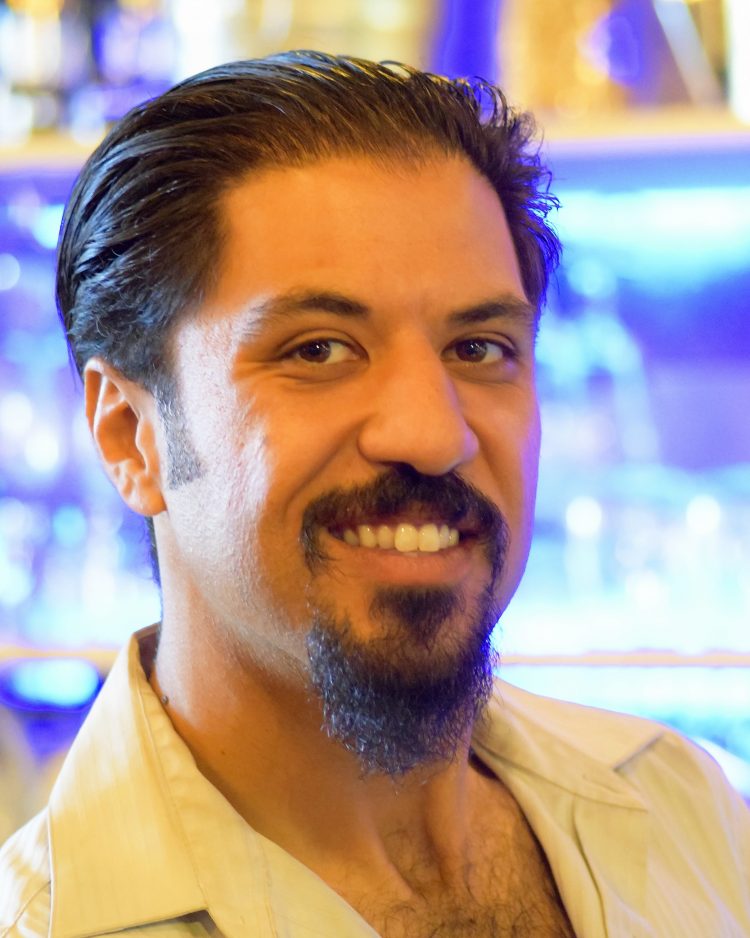 The live, in-person season for Theatreworks kicked off on Thursday, Sept. 16 with "Witch," a "wildly funny dark comedy, which grabbed me from the first moment on the page," said Theatrewoks Artistic Director Caitlan Lowans.
Opening night marked the return to Dusty Loo Bon Vivant Theater — the first performance in the Black Box theater in nearly two years.
The production features a strong local flavor with several Colorado Springs actors and creative team members involved, including Hossein Forouzandeh '21, a graduate of the UCCS visual and performing arts program. Forouzandeh plays the role of Cuddy Banks, a central character of the production and one of the sources of comedy throughout.
We recently spoke with Forouzandeh and discussed his role as Cuddy, his training at UCCS, and the importance of arts to the Colorado Springs community.
Q: What notes are you trying to hit in the role of Cuddy Banks?
A: Cuddy is the son of a wealthy aristocrat in Edmonton. He's brought home a pet for the past five years by the name of Frank. Cuddy is in the midst of trying to find himself and trying to understand who he is with the limitations that his family has put on him in regards to his choices in life, and specifically his sexuality and what he wants to do with his career.
He's a meaty character. It's written with so much depth, and as far as an actor, being able to stretch those muscles in every way with this character is a real treat. And I'm trying to portray the conflicts that he has with Frank and the obstacles he has to overcome in realizing that Frank isn't going to give him what he wants. And his father isn't going to give him what he wants, and I want to catch that throughline of Cuddy's real desires and being able to portray that angst to the audience
Q: You're returning to Dusty Loo Bon Vivant Theater after doing some outdoor shows during the pandemic. How does it feel to be back in your home theater?
A: It's a real treat to be able to be back inside the theater and make that magic. Being a UCCS alum, I had the pleasure of starting off there when Murray Ross was the artistic director of Theatreworks and leading the theater department at UCCS. I dove in quite deep. I started back when the theater was at Dwyer Hall. Then we moved over to the nursing school.
This was Murray's dream — to build the Ent Center for the Arts — so for him to be able to put it into motion and have it built before he passed, it's cool to know the history of what he went through to bring the theater to UCCS. To me, it's important because growing up here in the Springs, I see the need for the culture and diversity that the arts bring. It's neat to have people in the community who are willing to invest in something like Theatreworks, and of course, the school is involved as well.
Q: How did UCCS help get your career started as an actor?
A: Being a student at the university, and having Theatreworks connected with the university, is super advantageous for the kids getting into theater arts. I was able to not only be studying but also be working as a professional actor in the theater at the same time and actually getting a paycheck for it like everyone else. So to experience the real world aspect of it at the same time is really important.
Q: How has UCCS supported your development as an actor from an artistic perspective?
A: The theater program helped open me up. It really helped me dive deep into where I can take characters, where I can take my art, how deep I can really dive into it and be able to expanding it out to something to such extremes and then be able to pull it back in and finding those moments and grounding it in the reality of the story and the storytelling. So through Murray's courses, through Leah Chandler-Mills, I had the pleasure of being in Bob Penny's local class, they helped establish the program there in the '70s.
Q: Is it rewarding for you to be a part of that now?
A: Having grown up here and feeling as part of the community and to be able to give my art to this community is a special thing to me. I can't speak for the entire cast, but it's a momentous production because our entire cast is made up of local to Colorado Springs performers. And on top of that, most of us are Union actors, which is something we're proud of, and I truly feel honored and privileged to be working with such a talented cast and crew that rivals any production in larger markets.
"Witch" runs from September 16–October 10, 2021. Tickets are available for some shows.