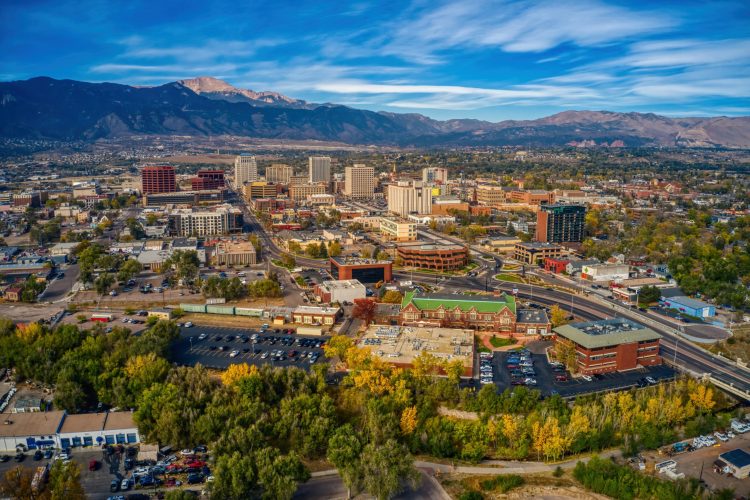 With a vision for business partnership and local economic insights, the first UCCS Economic Forum, formerly named the Southern Colorado Economic Forum, took place at The Broadmoor Hotel 25 years ago on September 10, 1997. The longstanding community event has since become the leading source of economic data and insights for the Pikes Peak Region, welcoming hundreds of attendees annually to its economic presentation. The Forum now holds dozens of presentations per year, produces monthly economic reports and acts as an economic development resource for the community at large.
The UCCS Economic Forum will celebrate its 25th anniversary event on Oct. 14 from 1–4 p.m. in a virtual livestreamed presentation.
To commemorate the 25th year, attendees will receive a special video welcome from the Forum founders – Tom Zwirlein, Professor Emeritus, Jeffery Ferguson, Professor of Service Management and Marketing, and Ron Chernak, President of The FBB Group. Don Warrick, Professor of Leadership and Organization Change, will also share remarks as he celebrates his 50th year of teaching at UCCS.
Tatiana Bailey, Director of the UCCS Economic Forum, and Marci McGregor, Managing Director and Senior Investment Strategist of Bank of America, will present virtually on the local, state and national economies.
McGregor will deliver a macroeconomic and stock market outlook. For Bank of America, McGregor provides macroeconomic and market insights, as well as investment guidance and portfolio positioning strategies. She is a member of the GWIM Investment Strategy Committee and is a regular contributor to CIO thought leadership content. She has appeared on Bloomberg Radio, Yahoo Finance and thestreet.com.
Bailey will present on the state and national economies. Bailey is a leading expert on economics, policy and urban economic development and the health care industry in the Pikes Peak region. She has directed the Forum since June 2014 and holds the position of Attendant Rank Professor in the College of Business. In 2016, Bailey was a "Woman of Influence," and in 2018, was named "Business Leader of the Year."
UCCS Chancellor Venkat Reddy and UCCS College of Business Dean Karen Markel will also provide brief remarks. Samuel Thomas Elliott, a UCCS graduate and Sales Executive at CIENCE, will preside as master of ceremonies.
"For 25 years, the UCCS Economic Forum has been a reliable resource and partner for businesses in the Pikes Peak region," said Markel. "We look forward to reflecting on the history of the Forum in our community and hearing an important update on the future of our economy from two leading experts in the field."
Following the virtual presentation there will be an in-person happy hour networking event at Catalyst Campus. Advanced registration will be required for this event, and it is capped at 200 people. The event is subject to change, pending developments with COVID-19.
Free registration is open for the UCCS Economic Forum. To reserve a ticket, visit the UCCS Economic Forum website.
About the UCCS Economic Forum
The UCCS Economic Forum is the leading source of unbiased and rigorous information for the Pikes Peak region. Data is continuously updated and actively utilized in the community to inform and drive economic development and business decisions. For more information, visit the UCCS Economic Forum website.
The UCCS College of Business was established in 1965 and has more than 1,300 undergraduates and 350 MBA students. The College of Business and Administration awards the Bachelor of Science in Business and Bachelor of Innovation degrees. The Graduate School of Business Administration awards the Master of Business Administration, Master of Science in Accounting and Executive Doctor of Business Administration degrees. More than 10,000 alumni of the College of Business live and work around the world. For more information, visit the College of Business website.