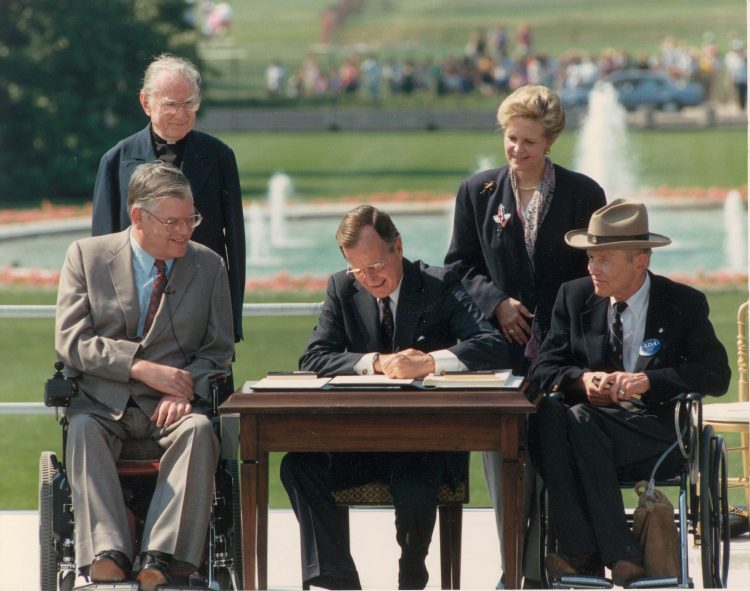 31 years ago, the Americans with Disabilities Act (ADA) was signed into law, enshrining protections for people with disabilities across employment, transportation, public accommodation and communications. At UCCS, the work to advance access and inclusion continues — from cross-campus advocacy efforts to international faculty research.
Some efforts focus on student support services, like the work of Disability Services.
"UCCS feels strongly about providing the best possible education for all of its students," said Ida Dilwood, Director of Disability Services and the University Testing Center. "UCCS has made continued progress toward reaching the intent of the ADA and protecting the rights of people with disabilities. Disability services is here to support and provide accommodations for students while ensuring the integrity of academic programs and services, but we all should think beyond the ADA and create a campus that is truly accessible for all students, staff and faculty."
Other efforts focus on advancing research and scholarship in the field of disability services.
"UCCS is home to outstanding researchers who are actively working to improve access and inclusion for people with disabilities," said Scott Kupferman, Associate Professor of Teaching and Learning.
UCCS research activity spans from researching university support for veterans with disabilities to cybersecurity career opportunities for young adults with autism. Kupferman's own research in the College of Education centers on access to educational and assistive technology for students with disabilities in partnership with technology companies such as Apple and Microsoft. On an international scale, Kupferman recently completed a U.S. Department of State project with scholars in Egypt, Lebanon, Morocco and the United Arab Emirates related to international disability policy.
"These research activities directly inform our university's efforts to not just meet, but exceed the standards set forth in the ADA," Kupferman said.
Learn more about UCCS' work to strengthen access and inclusion for all individuals, including those with disabilities, below.
Universal Design for Inclusive Teaching
Universal design is a teaching approach that works to accommodate the needs and abilities of all learners and eliminate unnecessary hurdles in the learning process. It involves creating a flexible classroom dynamic in which information is presented in multiple ways, students engage in learning in a variety of ways and students are provided options when demonstrating their learning. 
The Faculty Resource Center at UCCS currently offers a credential for faculty members who implement universal design strategies in their teaching through the Universal Design for Inclusive Teaching program. Participants in the program are paired with a Faculty Resource Center instructional designer to redesign a course for inclusive teaching. Faculty work through three modules: inclusive teaching essentials, designing courses with accessibility in mind, and inclusive teaching practices. Digital badges are awarded upon successful completion of requirements. Each badge involves a 24 to 36-hour time commitment. Learn more about Universal Design for Inclusive Teaching on the Faculty Resource Center website.
Digital Accessibility Working Group
UCCS' Digital Accessibility Working Group works to implement digital accessibility across campus so that websites, mobile applications and electronic documents can be easily navigated and understood by a wide range of users, including those users who have visual, auditory, motor or cognitive disabilities.
The group works on a wide range of digital accessibility standards:
Course syllabi, textbooks and other course materials
Compliance with web content accessibility guidelines
Closed-captioning and audio description of audio-visual materials
Digital signage
Procuring goods and services
Process for providing access when known accessibility barriers exist
The goal of the working group is to create a unified commitment to inclusiveness across the UCCS campus, and to increase awareness and empathy at the university to improve the campus climate for all individuals with disabilities. Learn more about the Digital Accessibility Working Group's goals and initiatives.
Faculty Assembly Disabilities Committee
The Faculty Assembly Disabilities Committee at UCCS provides information for faculty at UCCS regarding disability, with a focus on better including and accommodating students with disabilities in the classroom. The committee hosts a guest speaker series. Learn more about the Faculty Assembly Disabilities Committee.
In addition, at the University of Colorado System level, a new (Dis)ability and Access Committee has been approved as an ad hoc committee of Faculty Council. Learn more about the new committee.
Disability Studies
Certificate programs in disability studies are available at UCCS for those who wish to gain a deeper understanding of historical and modern-day issues. The Women's & Ethnic Studies program offers a graduate certificate in Disability Studies, and the Department of Sociology offers an undergraduate certificate in the field. Learn more about graduate certificate and undergraduate certificate options.
For those who would like to learn more about the ADA and the history of disability accommodations, Kupferman has amassed one of the largest private collections of historic disability-related artifacts, including items from the 1990 signing of the Americans with Disabilities Act. Interested individuals may email him to arrange a viewing of his collection.
For further reading on ADA resources at UCCS, visit the Ethics and Compliance Program website. To learn more about Disability Services, watch this introductory video.