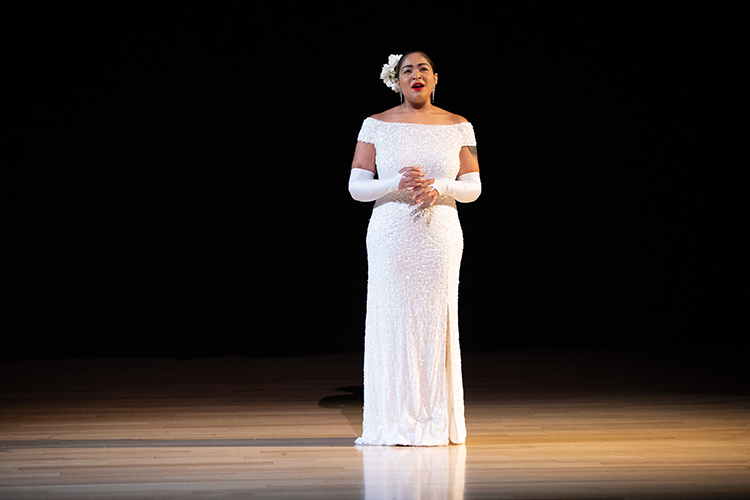 Theatreworks heads into Summer with "Lady Day at Emerson's Bar & Grill" running for three weekends, beginning July 15 at 7:30 p.m. at the Ent Center for the Arts Shockley-Zalabak Theater on the University of Colorado Colorado Springs Campus.
The audience for "Lady Day at Emerson's Bar & Grill" experiences one night at the end of famed American jazz and swing singer Billie Holiday's career. The play explores her turbulent life, racial strife in America, and the power of a singular artistic voice. "Lady Day" combines her life story with timeless songs like "What a Little Moonlight Can Do," "God Bless the Child" and "Strange Fruit."
About the Cast
Colorado Springs actor and singer Cheerish Martin brings Holiday to life with her sultry voice and the emotion she gives to the lyrics. Martin has been seen on Colorado Springs stages from Funky Little Theater to Millibo, and including two Theatreworks productions: "House Arrest" and" Little Shop of Horrors." Accompanying Martin on the piano is Earl Schaffer Jr. as Jimmy Powers.
"I think [Billie Holiday] was a woman before her time," Martin said. "She would have been really celebrated if she had been where she was at that time today. People appreciated her activism, sass, comedy, free spirit and that's something to celebrate now. She was a survivor who refused to give up. That's how I'm telling her story — exactly how it is. Just her truth…100 percent the best I can."
About the Director
Local director and award-winning actor Lynne Hastings will direct. The play takes place in South Philadelphia in March 1959 set in a run-down bar, during one of Holiday's last performances before her death in July 1959. Hastings has been acting since high school and lived in New York after college. She attended the American Musical and Dramatic Academy's Conservatory program. She returned to Colorado Springs in 1995, found work as an actor and has been an integral member of the Colorado Springs arts community since then. Hastings has been a key part of Theatreworks for many years, including time as an actor most recently in "Raisin in the Sun," a board member, and two years as Artistic Producer, shepherding the work of Theatreworks after the death of founding Artistic Director Murray Ross.
"The Billie Holiday you see in this story is a casualty of poverty, abuse, and systemic racism," Hastings said. "She was part of a cycle that was lived by many Black citizens in the America of the time. Rich or poor, celebrity or 'everyday Joe,' the color of their skin made them 'less than.'"
About "Lady Day at Emerson's Bar & Grill"
The year is 1959, set in a seedy Philadelphia bar. Audience members will witness one of Billie Holiday's last performances, just four months before her death. More than a dozen musical numbers are performed with salty, humorous, reminiscing to reveal the portrait of an American iconic figure and her music.
Theatreworks 2021-2022 Season Announcement
As previously announced, subscriptions to the 2021-22 Theatreworks season are on sale now online at entcenterforthearts.org or through the UCCS box office at (719) 255-3232. Season tickets purchased now through Aug. 1 include an early-bird discount. The 2021-2022 season is made possible with the generosity of season sponsors including: Bloom Foundation, Shubert Foundation, Bob Johnson Memorial Fund, Ed and Mary Osborne and the Kraemer Family Endowment at the Kraemer Family Library.
About Theatreworks
Theatreworks is a professional, regional theater company dedicated to creating challenging and innovative productions of classic and contemporary theater for the enjoyment, education and stimulation of UCCS students, faculty, staff and Pikes Peak region community members. Theatreworks was founded in 1975 as an outreach program of UCCS.
Performance Details for "Lady Day at Emerson's Bar & Grill"
By: Lanie Robertson
Directed by: Lynne Hastings
FEATURING
Cheerish Martin as Billie Holiday
Earl Schaffer Jr. as Jimmy Powers
WHEN
July 15- Aug. 1
PERFORMANCES
Opening night
Thursday, July 15 at 7:30 p.m.
Evenings
Thursday-Sunday at 7:30 p.m.
Matinees
Sunday at 2 p.m.
WHERE
Shockley-Zalabak Theater at the Ent Center for the Arts on the UCCS campus
5225 N. Nevada, Colorado Springs, CO 80918
TICKETS
In recognition of the difficulties of the past year and the joy of returning to live performance, Theatreworks is able to share this production at the special ticket price of $21 per ticket. Military and educator discounts are available.
LINK
https://entcenterforthearts.org/theatreworks/events/lady-day