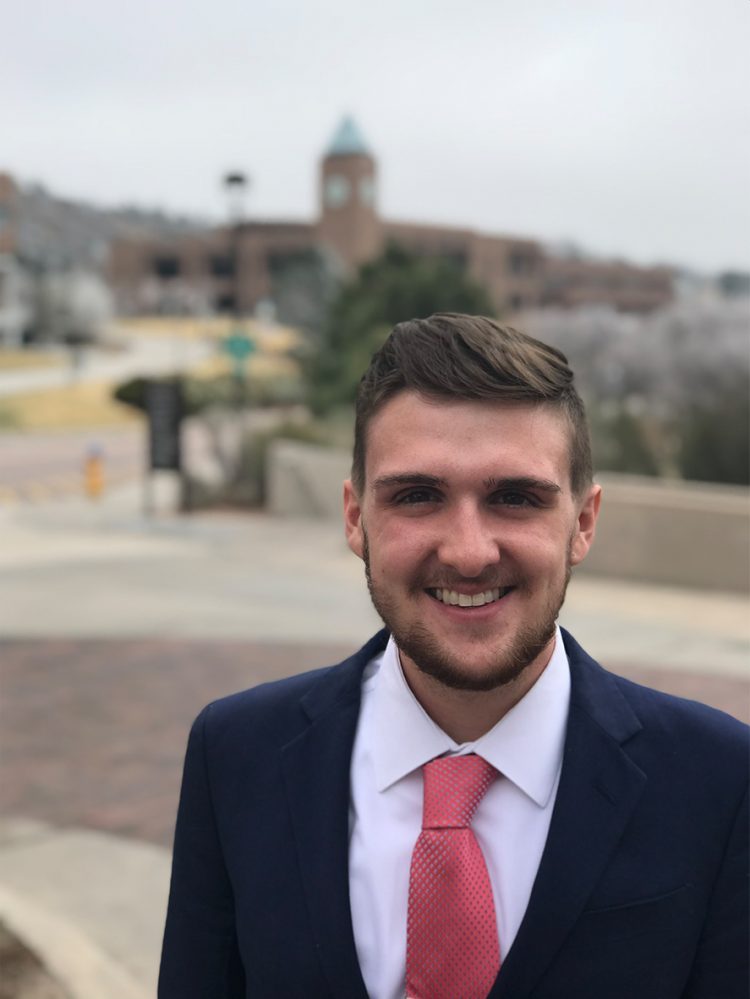 Student success leader Jake Murphy '18 is using higher education to reach new heights — specifically lower Earth orbit.
After graduating from UCCS in 2018 with his Master of Arts Degree in Leadership with a concentration in Student Affairs in Higher Education, Murphy was hired to help lead the intern program and university recruiting of SpaceX, the private space exploration company founded by billionaire inventor, Elon Musk.
But Murphy wasn't always reaching for the stars, he says. While getting his Bachelor degree in Political Science from the University of Iowa, he struggled to find a true passion outside of working with fellow students.
"I was not the model student," Murphy says. "I would much rather have planned an event than study for a test. I was involved in a lot of extracurricular stuff."
Through exploration of his own and help from a mentor, Murphy found that his love of leading students and organizing events around campus could translate into a Student Affairs career.
"Going into my undergrad, I didn't even know Student Affairs was a path," Murphy explains. "So it was a lightbulb moment, like, there's actually a career here."
In 2016, Murphy attended the annual American College Personnel Association Conference in Montreal, Canada to learn more about student affairs and met Patty Witkowsky, the program coordinator of UCCS Student Affairs in Higher Education (SAHE) emphasis, who sold him on the degree.
During the two-year program, Murphy was able to build essential student success leadership skills by gaining hands-on experience in a Graduate Assistantship within the UCCS Office of Student Activities.
"I had a lot of interactions with students — particularly with students from diverse backgrounds and supporting students in crisis," Murphy recalls.
Witkowsky explains that, like all UCCS degree programs, SAHE focuses on providing useful hands-on experience to students through Graduate Assistant roles either on or off campus, which help prepare them for the workforce immediately upon graduation.
"It's really important for them to get practical experience in their coursework," Witkowsky says, noting that UCCS has "a coordinated process with different campuses, like CSU Pueblo and Pikes Peak Community College" to help students get real-world experience.
This practice helped Murphy get his first job as the Late-Night & Weekend Programs Coordinator for the University of Portland, where he oversaw three student groups, including the Campus Program Board, and helped curate fun, after-hours, on-campus programming.
Between 2018 and 2019, he was able to thoroughly test out his student success leadership knowledge before taking off to SpaceX's Hawthorne, California headquarters in February.
To Witkowsky, Murphy's passion for leadership and willingness to boldly go where many SAHE students have never gone before made him the perfect candidate for guiding SpaceX interns.
"It makes sense that he is using the same skills he developed to work with undergraduate students to teach interns about the mission," Witkowsky says.
While most SAHE students go on to get jobs in Higher Education, many graduates, like Murphy, have been able to enter the private sector in roles like Program Management and Leadership Development for large companies.
Murphy feels especially grateful that his SAHE degree has let him keep working to ensure student success, just in a different capacity.
"When students get onsite for internships, they become like the students I was working with," Murphy says. "I'm not their supervisor or manager, but I'm there to help them."
Right now, Murphy works with two other coordinators who recruit, oversee, and onboard between 300-350 interns in a given season. Part of Murphy's job is to reach out to institutions across the nation through calls and hiring events, all with the hopes of finding interns that can become future employees.
Unlike many companies and internship programs, SpaceX aims to mold interns into full-time workers, giving them the chance to come back for multiple internships to gain more experience.
"I know one student who is on his fourth internship," Murphy says. "We don't want interns just giving us three months of their time. We want to make sure opportunities are there for further internships or full-time work."
These apprenticeships are a symbol of SpaceX's current growth, but also the magnitude of its overall mission: to make space exploration possible for all.
Founded in 2002, SpaceX aims to put astronauts back on the moon, enable life on mars, and cut space travel costs so that, one day, space travel might be affordable and accessible enough for, well, anyone.
Right now, SpaceX plans to send Japanese billionaire Yusaku Maezawa to the moon as early as 2023 using one of its successfully developed spacecraft, like the remarkable Falcon 9 rocket, which can land and be reused for multiple launches.
In May, Murphy, his interns, and the whole SpaceX team celebrated the first launch of American astronauts to the International Space Station since 2011.
"It was such a big deal to be returning our astronauts to the space station on an American rocket, from the United States," Murphy says.
While the world turns its eyes to space once again with help from these unprecedented achievements, Murphy and his team are also working on a big accomplishment of their own: running the intern program completely online due to COVID-19.
Fortunately, with help from UCCS, Patty Witkowsky and the ethos of SpaceX, Murphy is ready to overcome big hurdles and shoot for the stars within his student affairs career.
"Don't be afraid to take risks," Murphy says. "You're going to get a great experience, so long as you put in a little effort, too."