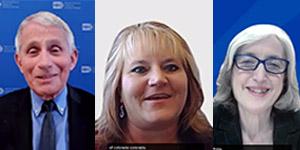 UCCS Assistant Vice Chancellor for Health and Wellness Stephanie Hanenberg moderated the closing session of the American College Health Association (ACHA) annual meeting on Thursday.
Closing speakers included Anthony Fauci, chief medical advisor to the President and director of the U.S. National Institute of Allergy and Infectious Disease, and Anne Schuchat, principal deputy director of the CDC.
Hanenberg, who has helped lead the UCCS COVID-19 response, has served in multiple roles for the ACHA, including president of the organization.