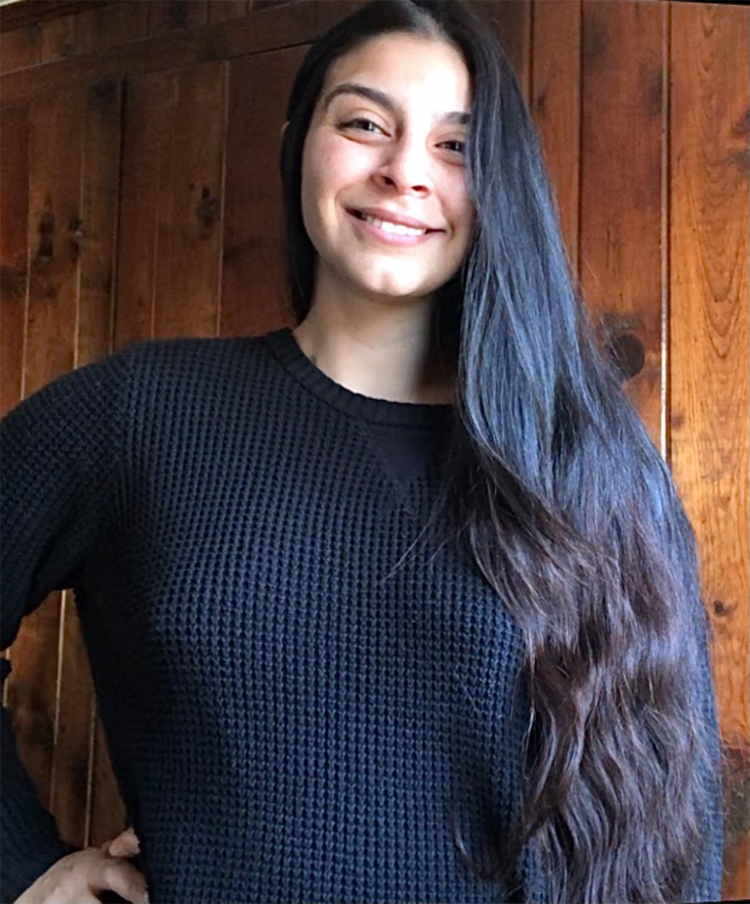 When Linette Ramirez '20 decided to get her Bachelor of Arts in Communication from UCCS, she knew that it would give her more knowledge, more job opportunities and more earning power, but also more ways to balance learning with her busy life by opting to complete her degree entirely online.
After transferring to UCCS in 2017, Ramirez was able to further her education while still working full-time and living in her hometown of Pueblo, Colorado.
Ramirez said going to school online "made it easier, because it gave me that freedom to do it when I can. On my days off, I would wake up and get directly to doing schoolwork."
Ramirez is one of nearly 4,000 students who are taking advantage of flexible remote learning courses and programs at UCCS to further their education without having to set aside responsibilities like work or family.
As a first-generation, Spanish-speaking student, Ramirez decided to study communication to help more immigrants, like her dad, translate their concerns and needs.
Now, she is putting her degree to use through an internship with Lutheran Family Services, helping refugees and asylees get different forms of assistance.
"I come from an immigrant background," Ramirez says. "So it's always really personal to me. Communication, especially culture-wise and interpersonally — it's just a really good fit."
From this internship, Ramirez is planning to work with Catholic Charities in Pueblo. Like Lutheran Family Services, the nonprofit helps immigrants get medical aid, financial assistance, translation services and more.
But Ramirez didn't always know that communication was her calling.
After starting at a local community college in 2013, she got her Emergency Medical Technician (EMT) certificate, then tried for a Paramedic Certification, but struggled through challenging science courses. By 2017, she switched back to communications, determined to transfer to UCCS and kickstart her career.
"I said, 'Maybe I should try to go?'" Ramirez recalled. "I could get financial aid, so I ended up applying, and got accepted."
After transferring, Ramirez was hesitant about trading a traditional classroom for online education but knew it would allow her to earn a better degree.
She immediately enjoyed how rewarding online learning was, as it allowed her to be autonomous but get guidance from her professors at any time.
"When I had difficulty understanding something, my professors were very attentive," Ramirez said. "They were always available when I needed them."
Even in the online setting, Ramirez was able to develop useful relationships with several of her professors, including philosophy lecturer Patrick J. D'Silva, who helped make her a better communicator through useful evaluation.
"I try to give precise feedback," said D'Silva, "Because, in terms of the skills that students are developing to take with them throughout their career, the ability to read and write are such key skills."
D'Silva's emphasis on expertise grew from his own real-world experiences. After earning his PhD in Religious Studies from the University of North Carolina Chapel Hill, he came to UCCS in 2018 as a welcomed online educator within the Department of Philosophy.
Despite instructing online, D'Silva has strived to build a community among his students and hopes that, with this style of learning becoming more prominent, more students will get access to education.
"What I like about the online environment is it opens up access to students who would just be so restricted if they had to go to campus," D'Silva explained.
This was certainly the case for Ramirez. With online helping her achieve more, she is now considering getting a public relations degree online electronically and advises anyone who is unsure to reconsider, especially because this is where education is headed.
"Everything is technology and web-based," Ramirez concluded. "And I think it's really important to know how to navigate through that because it gives people a whole lot more opportunity than they used to have."