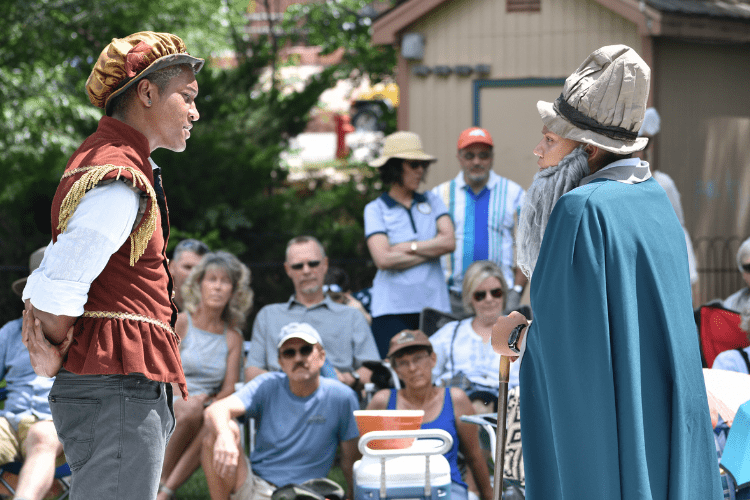 In the summer of 2021, Theatreworks again brings accessible theatre to the vibrant communities of the Pikes Peak region through our Free-For-All program. Piloted in summer 2019, Free-For-All's mission is creating opportunities for the dynamic and diverse communities of Pikes Peak to gather and celebrate through live theatre. After a spring of successful virtual school residencies and performances, Theatreworks will tour a free 75-minute adaptation of "A Midsummer Night's Dream" beginning June 19, to libraries, community centers, and parks throughout El Paso county, with visits to Teller, Fremont, and Elbert counties as well.
This adaptation of "A Midsummer Night's Dream" will feature all original Shakespearean text, retold in a fun, physical, fast-paced, family friendly production perfect for a summer outing.Three fairies wreaking revenge, four people escaping in love, and six workers aspiring to artistic greatness all add up to chaos during one magical, mystical night in the wood. Six actors play multiple roles in this hilarious romp! In Free-For-All's unique casting model, all actors learn multiple roles and multiple actors learn each part; audience members who see the show multiple times may never see the same cast twice! For our outdoor performances, we encourage all to bring lawn chairs, blankets, and picnic with us as they enjoy this classic comedy.
In addition to our public performances, Theatreworks will also partner with District 11's Summerbridge program, TESSA, and the Springs Rescue Mission to bring "Free-For-All: Midsummer Night's Dream" to their communities, after a round of virtual school performances in District 11 and District 14 this spring. The program is supported in part by a generous matching grant from Shakespeare in American Communities, a grant program of Arts Midwest and the National Endowment for the Arts.
Creative team members include the director, Caitlin Lowans (Theatreworks Artistic Director); co-director Kathryn Walsh; costume designer Pheobe Boynton (Theatreworks costume shop manager); stage manager Zachary Engelman (UCCS alumni); and costume assistant Susan Hoekstra.
The cast features eight actors: UCCS alumni Arantxa Chavez and AJ Vafiades; UCCS students GJ Noel and Sierra Tune; and community actors Lily DiSilverio, Rachel Fey, Danté Finley, and Colton Pratt.
Performance details: Free-For-All: Midsummer Night's Dream by William Shakespeare
Public Performance Dates, Times, and Locations:
Performance Length: 75 minutes, no intermission.
Audience details: For outdoor performances, please bring a blanket or a beach chair. Most of our performance sites are outdoors and reservations are not required; for some performances, there may be specific requirements or policies. Masks are highly encouraged for audience members. Please check the websites of our performance partners for more information on their policies and guidelines.
Price: Free