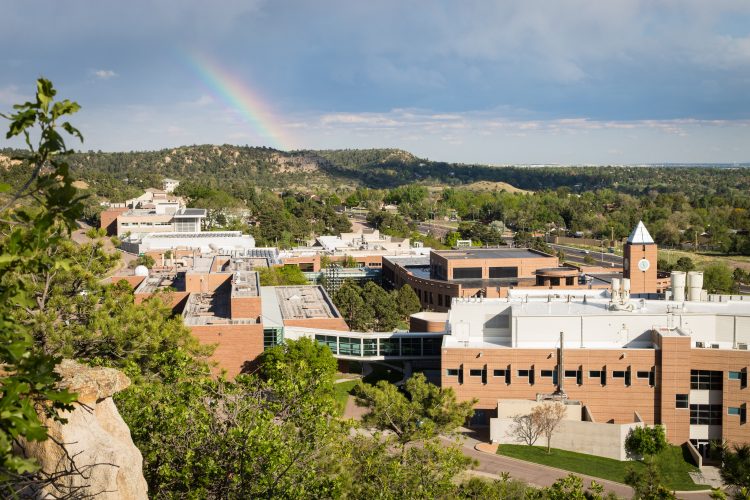 With nearly a decade of top scores in national sustainability ratings, UCCS is building upon its reputation as a leader in sustainability and a steward of the Pikes Peak region's natural resources.
For the third cycle in a row, UCCS has been awarded a Gold rating in recognition of its sustainability achievements from the Association for the Advancement of Sustainability in Higher Education (AASHE). The Gold rating makes UCCS one of the four most sustainable higher education institutions in Colorado.
"UCCS' continued success to institutionalize sustainable practices, education and engagement stems from the hard work of our students, staff and faculty," said Kimberly Reeves, interim director of sustainability. "Whether it's finding a more sustainable product to purchase, integrating sustainability into the curriculum, or receiving funding to implement a Green Action Fund project, our campus community helps make UCCS more sustainable." 
STARS, the Sustainability Tracking, Assessment & Rating System measures and encourages sustainability in all aspects of higher education. UCCS earned 65.05 points in the assessment and was credited for strengths in sustainable curricula, strong campus and public engagement and strategic planning of sustainability initiatives.
UCCS' Green Action Fund initiative was highlighted as a point of distinction for its mission of reducing the ecological footprint of the university and promoting sustainable environment, social and economic values through student-sponsored projects. Other initiatives that earned points in the rating categories were the Compass Curriculum general education program, incentives for sustainability research and strong, formalized university-community collaboration with the Trails and Open Space Coalition.
"STARS was developed by the campus sustainability community to provide high standards for recognizing campus sustainability efforts," said AASHE Executive Director Meghan Fay Zahniser. "UCCS has demonstrated a substantial commitment to sustainability by achieving a STARS Gold Rating and is to be congratulated for their efforts."
With more than 900 participants in 40 countries, AASHE's STARS program is the most widely recognized framework in the world for publicly reporting comprehensive information related to a college or university's sustainability performance. Participants report achievements in five overall areas: academics, engagement, operations, planning and administration, and innovation and leadership.
UCCS' STARS report is publicly available on the STARS website. The university's Gold rating will remain valid for the next three years.
"Our next campus sustainability steps are to create a gap analysis from our 2018 STARS submission to present," Reeves said. "These opportunities to improve will help guide the UCCS Sustainability Strategic Plan update. If you would like to provide feedback or assist in creating campus goals, we encourage you to look for ways to engage this summer and fall. We'll host both in-person and online opportunities, so the goals encompass the entire UCCS community's ideas."
Below, see collected images from the last three years in sustainability at UCCS.
Related: