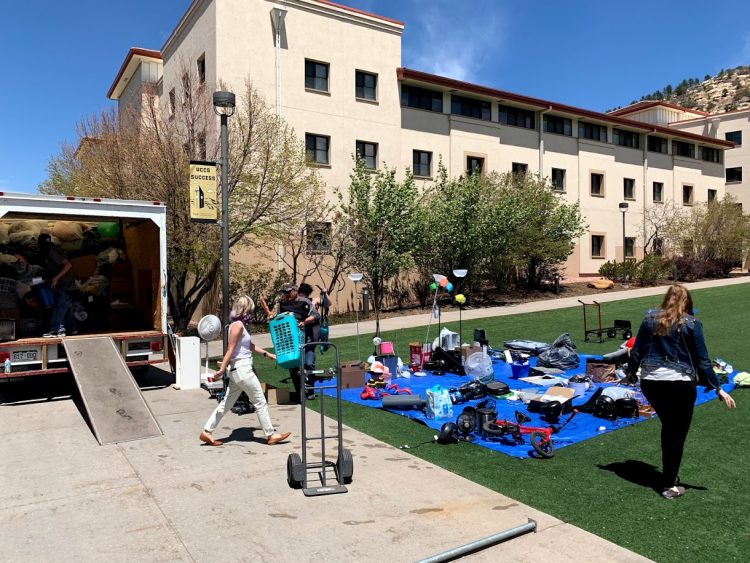 As students moved out of residence halls this year, the UCCS Office of Sustainability was busy giving gently-used items a second home – and even a chance to save lives.
The office offered the tenth annual Move-Out Donation event in partnership with Residence Life and Housing and Facilities Services. The initiative, which runs between finals week and move-out Saturday, encourages students to donate items they can't take home with them or might normally throw away.
This year, UCCS donated enough useable items to fill a 22-foot dumpster to One Nation Walking Together, a local nonprofit. The organization provides resources and services to more than 40,000 Native American families living below the poverty line in the Pikes Peak Region and beyond.
Students' donated items – especially appliances like microwaves and miniature fridges – can have surprising second lives through the nonprofit.
"I often tell a story answering the question of why anyone would be so happy for a mini fridge for their home," said Kathy Turzi, executive director of the nonprofit. "Many families we serve need to keep insulin treatments for diabetes in the home. Without a fridge to keep it at the right temperature, they may have to go without the medicine that can save their life. To some people, a mini fridge might look like a small appliance to keep a few drinks and snacks cold. But for people we serve, it may save a life."
Turzi noted that some families served by One Nation Walking Together might have to make a tough decision: buy groceries, or purchase appliances like home goods, lamps and chairs. Donated items from the UCCS campus will help these families to do both.
"Great impact will be made on the lives of the people we serve," Turzi said. "We cannot thank UCCS enough."
The Office of Sustainability partnered with staff volunteers to run this year's event. Volunteers manned both the main campus drop-off location and drop-off locations residence halls, organized items as they were donated and helped to load the truck carrying donations to their new homes.
See photos from the donation event below.