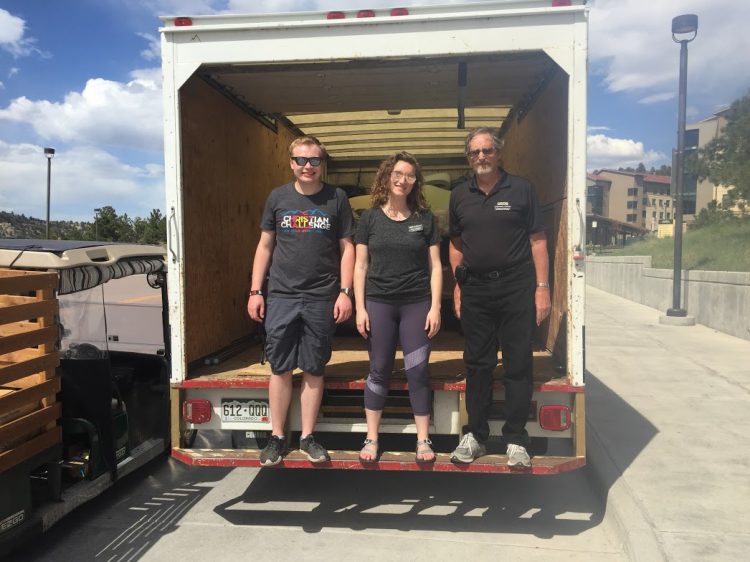 As students moved out of residence halls this year, the UCCS Office of Sustainability had one message for them: "Don't trash it – donate it." 
For the ninth year running, the Office of Sustainability offered UCCS' annual Move-Out Donation event in partnership with Residence Life & Housing, the Residence Hall Association and Facilities Services. The initiative, which runs between finals week and move-out Saturday, encourages students to donate gently-used items they would normally throw away. 
This year, UCCS donated 3,200 pounds of useable items to local and national service organizations.  
UCCS students' donated college items can have surprising second lives. Extra-large twin sheets donated to Cat Haven, a local no-kill feline shelter, provide warm bedding to homeless cats. Shelf-stable food items line the shelves of Clyde's Cupboard, UCCS' on-campus student food pantry. Room decorations are repurposed into arts and crafts supplies at the Who Gives a SCRAP donation-based scrap store. 
And larger appliances, like microwaves and mini fridges, provide relief to Native American families living below the poverty line in the Pikes Peak Region and beyond.  
This year marked the first year that nonprofit One Nation Walking Together participated in UCCS' Move-Out Donation program. The organization delivers more than $2 million dollars worth of donated goods annually to between 30,000 and 40,000 Native American families in Colorado and seven surrounding states. 
Kathy Turzi, executive director of One Nation Walking Together, noted that donated appliances can have-life changing impact. 
"The value of the mini fridges is huge for us," Turzi said. "People need a safe way to store their insulin. Native [Americans] have the highest rate of type 2 diabetes [in the country], and insulin is a huge need." 
Turzi went on to note that many families served by One Nation Walking Together would normally have to make a tough decision: buy groceries, or purchase an appliance like a mini fridge to safely store perishables and medicine. 
Donated items from the UCCS campus will allow these families to do both. 
The Office of Sustainability partnered with alumni, faculty, staff, student and community volunteers to run this year's event. Volunteers manned both the main campus drop-off location and drop-off locations at each residence hall, organized items as they were donated and helped to load trucks carrying donations to their new homes. Who Gives a Scrap offered significant organizational support at the event and in years past.
Prior to 2014, when the Office of Sustainability took over the event, UCCS Staff Association hosted a Goodwill trailer and staffed volunteers to accept and organize donations.